Flat silk is used hand embroidery in a variety of techniques. I've recently been on a "flat silk" kick, as you may know from my previous comparison of flat silks. I've added the flat silk from the Japanese Embroidery Center into the comparison now, and have some photos to share with you.
These photos of flat silk don't really do the different silks justice. You have work with them, feel them, play around with them, to really get the sense of which ones you like best. The thoughts here are just my opinions, after playing around with the different silks.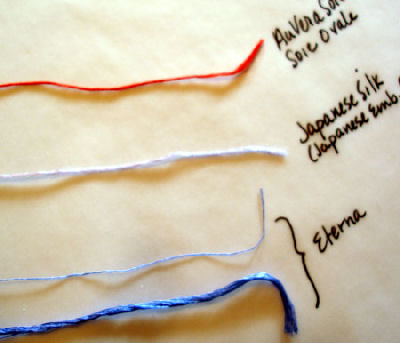 Unfortunately, I ordered rather pale colors from the Japanese Embroidery Center, so they don't show up as well in the photo. What we have here are three types of flat silk: Au Ver a Soie Soie Ovale, Japanese Flat Silk, and Eterna (which is a Chinese flat silk which comes in groups of 12 strands).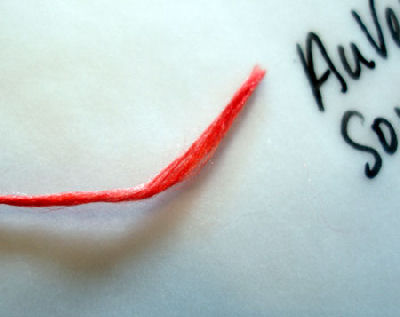 This is the Soie Ovale up close again. You can see the individual filaments of silk (I believe they are called "suga") which make up the full strand.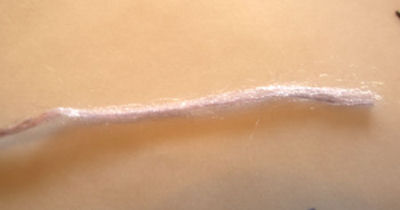 This is the Japanese silk up close. It looks fuzzier in the photo than it actually is. You can see farther down the strand, away from the end, that it is not as fuzzy as it looks. The "fuzzy" end comes from handling. Again, you can see the individual very fine suga. Each strand of Japanese silk is made up of 12 suga.
Here, you can see the stranded silk from Eterna, which I purchase from Yodamo. Each "bundle" has 12 strands, not to be confused with filaments or suga, which are much finer. Each strand of the Eterna stranded silk would be made up of so many filaments. It takes approximately 2 strands of Eterna to equal the thickness of one strand of typical DMC 6-stranded embroidery floss. So – you guessed it – one strand of Eterna is very fine, and can be used for fine detail work. Believe it or not, the strand can be further split for even finer work.
Filament silk, by the way, is the silk pulled straight from the cacoon in long strands – as opposed to spun silk, which is all the left-over spun into the thread or floss. Filament is generally stronger silk with a higher lustre.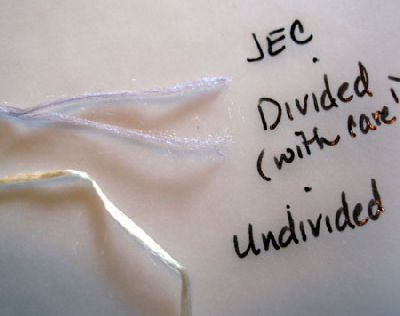 Here, I've divided the Japanese silk (the top one is divided) and laid it next to the undivided Japanese silk. You can divide this filament silk carefully. It will go back together in a smooth strand when you run it through your fingers (I suggest Au Ver a Soie hand cream when you're doing this kind of work – it reduces the friction on the thread and the snags…) Separating the filaments gives you an even finer thread to work with.
Another close-up on the Japanese silk….
Here's the Soie Ovale separated carefully. Again, same thing – after you've separated it, running it through your fingers puts it together again for working.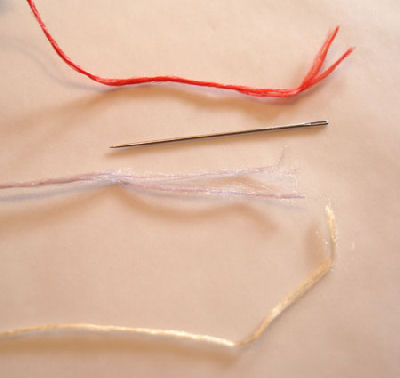 Just to give you some perspective, I threw in a #10 embroidery needle, so you can get the relative size of the threads.
And here's one strand of Eterna Silk and the Japanese silk side-by-side.
The Japanese silk comes in 60-meter spools from the Japanese Embroidery Center, at $7.00 for 60 meters. Shipping is reasonable, but somewhat slow. They guarantee shipping it out within five days of placing the order. Sometimes their website is quirky and doesn't seem to work, but with persistence, you shouldn't have a problem. You can also call and place an order. All the information is on their site.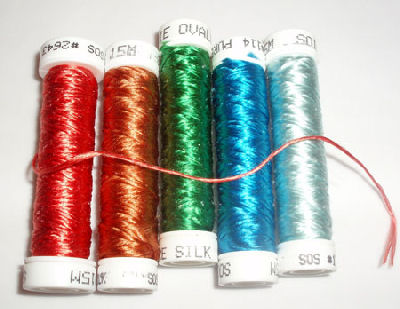 The Soie Ovale comes in 15 meter spools for about $3.35. In other words, for approximately the same price as the Japanese silk, you get 40 meters less! I order Soie Ovale from Needle in a Haystack, which is the only place that seems to carry a ready selection of it. If she's out of stock, she's quick to place the order and get the product to you. Shipping is very reasonable, and the turn-around between order and arrival is minimal.
To sum up, these are my observations on the above silks.
Soie Ovale
Best quality of the three silks overall – it's a bit thicker (more filaments) and the thread seems to have more "body" to it.
Most expensive overall – which is a drawback!
Nice colors, but low range of colors – only 59 available
No color card, but the colors match the Soie d'Alger color chart, so you can cross-reference
Japanese Flat Silk
Next best quality of the three silks overall – it's not as thick as the Soie Ovale, has less body, fewer filaments
However, it has a better color range – about 258 colors – and a great color card for selection.
Considerably less expensive when compared to the Soie Ovale
And nice to work with, like the Soie Ovale
Eterna Stranded Silk (Chinese Flat Silk)
Update: Eterna Silk is no longer available – the business apparently has closed.
Per strand, not as thick as the previous two silks, and overall, does not seem as "high quality" – but it's ok – I do like it. It is not as "flat" as the other two, either.
The strands can be doubled, requiring the use of a laying tool to get a really smooth effect
5 meter skeins, with 12 strands per skein, are $.95. $7.00 will get you about 35 meters of 12 strands each, and about 3 or 4 strands equal the thickness of the Japanese silk, so, in essence, for the same price as the Japanese flat silk, you're getting about 105 meters of silk (if my math is correct!) So this is the least expensive option.
An extensive color range – with 545 colors available.
Printed color chart is available, but I found it inadequate in choosing colors.
So there you have it! I think, weighing quality, availability, and affordability, I'll be playing around more with the Japanese Silk.
If you have any insights into other silks, or questions about any silks in particular – or any recommendations, etc. – feel free to share!! I'm all ears!
I'm also willing to try out various silks, as long as the expense isn't too much, and write up comparisons, so if there's anything you want to hear about in particular, let me know!