Another hand embroidery tutorial to add to the collection of how-to videos for hand embroidery – here's the Drizzle Stitch.
The drizzle stitch is a "texture" stitch. It makes an individual, almost-upright, slightly twisted "tower" on your fabric. It's difficult to explain what it looks like! So here are some photos of it instead: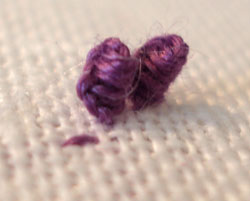 These are the two purple drizzle stitches from the video. They're worked in a coton a broder. They're not as pretty as the stitch could be, so I tried it with Trebizond, which is a three-ply twisted silk.
I think it's much prettier. The needle is there to give you a sense of size. They're not as big as they look! These are made with five cast-on stitches.
Here they are from another angle. They look rather like a caterpillar.
And here they are from the top. You can see the shadow – they do stick up off the fabric…
You might wonder how this stitch can be used in embroidery – as I mentioned above, it's a great way to add texture to clusters. So, for example, you might stitch a cluster of them in the middle of a flower, or among any kind of encrusted areas on textured embroidery.
The video takes you through two drizzle stitches, since it's a slower stitch to work. For materials, you may wish to have a needle threader handy, since you have to re-thread your needle while it's still in the fabric (embroidery is always much easier with the right tools!)
For more embroidery stitch instruction, feel free to check out the rest of my collection of how-to videos for hand embroidery here on Needle 'n Thread!
If you like what you see on Needle 'n Thread, if you want to be a part of keeping the website thriving (and free of annoying network advertising), why not become a patron on Patreon? Check out my Patreon page here, where I'll occasionally add special needlework bonuses for patrons.
If you shop on Amazon, you can support Needle 'n Thread without any extra expense to you by visiting my Amazon Recommendations page here, where you'll find books and sundries for the needleworker available on Amazon.