I've been told that needlepoint is a very "relaxing" form of needlework. Truthfully, I don't really know. I recall as a kid doing some little needlepoint design on plastic canvas, that came with a kit of sorts – and that's the only time I've ever played with the technique. Well, my tastes have matured a bit, and, with a little bit of luck, I've come into possession of what promises to be an exciting project.
The Traquair House needlepoint canvases are hand-painted by Phillipa Turnbull. They are, "by special permission from The Laird of Traquair House in Scotland, an exact replica from a panel of slips from the 16th Century." There are 9 slips altogether. You can see photos of them at The Crewel Work Company.
Traquair House dates to 1107 (900 hundred years old!) when, according to the historical information on the website, the house was a hunting lodge for the Scottish royalty. Now, it's one of those "I'd love to go there" historical spots that hosts tours, events, and weddings, has a brewery on site, and even has Bed and Breakfast accommodations. It looks like a lovely place with a glorious history. You can read all about it at the Traquair House website.
Back to needlepoint! The panel I have is the Griffin, Pomegranates and Swooping Bird panel: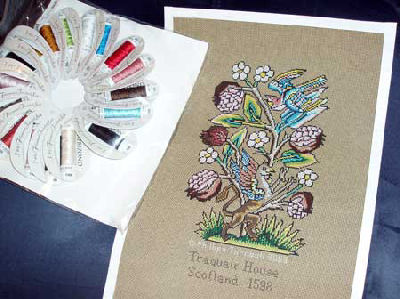 And it came with the whole palette of Trebizond silk!
This is the whole canvas. I'm glad it's the Griffin! As you probably guessed, I didn't actually order this specifically – it came as part of the needlepoint treasure box from Twining Thread, which, sadly, is no more.
There's the griffin up close. I like him!
Here's the Trebizond palette.
The piece is supposed to be worked entirely in tent stitch (or petit point), which I guess will make the stitching itself rather easy, except, perhaps, for the changing of colors rather often. I'm assuming that it should be worked in the "basketweave" style of tent stitching. The unfortunate part of receiving this canvas for a mere (small!) fraction of it's regular retail price (along with all the silks, to boot!) is that it didn't come with specific instructions. I'm hoping I know enough about needlework to manage working the piece, and what I don't know, I may be able to guess!
I've worked a lot of canvas stitches and their variations on evenweave, to play with them, but I've never actually worked a whole piece of needlework of this quality. So wish me luck! I can't wait until I have time to get it going!
If anyone out there has any advice about working on this type of canvas, I am, as usual, all ears!