Guess what I've been doing this weekend? Yes, the title gives it away – making more embroidery stitch videos. When I began (yesterday morning), I was organized, enthusiastic, and patient. After working all day yesterday and a good five hours straight this afternoon, I'm feeling a bit impatient and cranky – so I thought it would be a good time for a break! I also decided to take some photos of my embroidery recording set-up and tell you how I go about making the embroidery video tutorials.
The first thing I do is make a list of what embroidery stitches I want to get done during the recording session. I'm always Really Optimistic when I make this list! I end up with a list of 25 or 30 embroidery stitches that I'm just Sure I'll be able to record. Um… well, suffice it to say, optimism is always a good thing at the beginning of a project, but it's even better in the middle!
Next, I gather up supplies and frame up a piece of fabric suitable for the stitches I want to do. In this weekend's recording session, I used all perle cotton, and so far, I haven't changed my fabric yet (which indicates rather clearly how few stitches I've accomplished!)
Then, I make space to set things up. But it's Christmas still, and I have a tree to contend with.
In the miniscule living room, I set up a straight chair, my embroidery stand (more about that later! It's new, and it's a gem!), a light, a small portable table to hold things, and my tripod set-up for the camera.
I make sure the light and the camera are as well situated as they can be. Usually, I have the light from the window as well, to balance things out, but there's a Christmas tree in the way this time.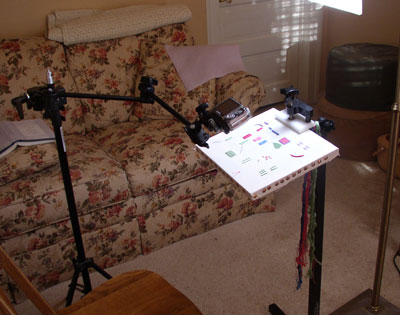 As you can see, the couch and the tripod tend to vie for space.
Once the furniture part of the endeavor is situated, I move the camera aside while I put lines and squares and such on my fabric, planning out the first video – what stitch, where on the fabric, and so forth. This weekend, I decided to mark very clear lines on the fabric, to help ease the stress of lining things up properly while stitching with a camera in front of my nose.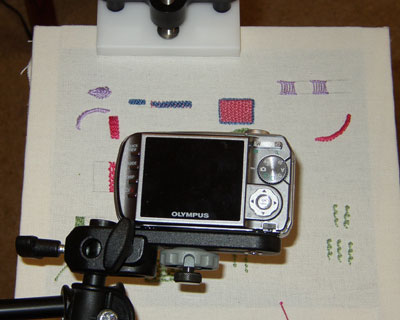 This is my view as I stitch. The item that I'm recording is located right smack under the camera there. Now you know why some of the stitching seems rather slow and awkward! It's a matter of getting my hands in and out and around that camera, without knocking the whole set-up over!
After I've recorded the stitches on my camera – starting over, clipping, stopping, starting, deleting, trying one more time, shifting positions, deleting again, and starting and stopping a few more times for good measure – I take the camera to my computer and unload everything, and recharge the battery if necessary.
Opening Nero Vision Express, I make a movie – only not the whole movie. In Nero, I blend together any clips and make any cuts in the clips. Then I export the whole movie as an .avi file, and take it into Windows Movie Maker, where I add the title clip and closing clip, and the transitions between those and the video. I mute the sound on the video (be thankful!), and then I save the whole thing as a "test" of the movie.
Then, I watch the test several times, thinking my way back through the stitching, and recalling what I was saying in my head as I went (sometimes, not a good thing… riffemrackemfrickemfrackem comes to mind quite often!). Now's the time to open up Audacity, and, while I'm watching the test video, I record the voice instructions. I hate that part. I don't like hearing my own voice!
Next, I take the audio clip into Windows Movie Maker and insert it into the video, and run through it once to make sure it's in the right position, and the audio and video are synchronized.
Once the sound and the video are situated, I save the whole thing in "best quality" on my computer. I watch it again to make sure it's not too horrid… and then I upload it to Google video, where all my hard work gets compressed and somewhat muddled, but is still clear enough to make a lot of people happy with the videos!
Finally, when time allows, I unleash the thing on the public by writing a post here about the stitch.
And that, my friends, is how I make the embroidery stitch videos!
So far this weekend, I filmed the following stitches:
Bokhara couching
Roumanian couching
Buttonhole filling – detached and … un-detached? attached!
Rope stitch
Raised chain
Raised stem
Coral stitch
Scroll stitch
Ladder stitch
Pistol stitch (elongated French knots)
(Ooooooh – so much for my list of 30!)
Well, tomorrow is another day!