You may remember that a while back (November) I embroidered a set of pillowcases. Well, imitation being the best form of flattery (excuse the cliché!), I was really thrilled to see Meeta's completed pillowcases. She sent along pictures, and so I thought I'd share them.
Meeta's embroidered pillowcases look almost just like mine, with a couple exceptions: 1. She says there aren't as many faces; 2. Hers are worlds NEATER and more carefully stitched than mine are! They're so cleanly and crisply done. Mine are sloppy fuzzy messes in comparison! Meeta was smart – she used a hoop, and you can really tell the difference on the tension of the fabric. Also, she was obviously very careful about her thread length and avoided the fuzzy fraying that comes from over-use of the same thread. I, on the other hand, was rather lazy in that regard, and it does show in the work!! And her stitches are nice and precise!
Meeta also made her black pillow case herself. On the white one, she took apart the "cuff" at the edge and put an extra lining of white inside so that no background thread (which is predominantly black) shows through.
I think you'll agree she did a great job!
Here are the photos:
Both pillow cases…
Close-up on the white…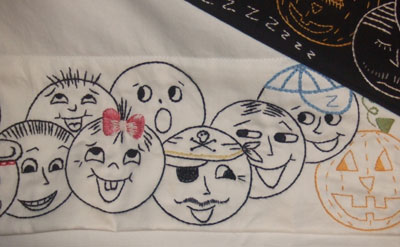 And the other half of the white…
And the left half of the black pillow case…
And the right half! Yep, the drooly guy is still my favorite!
Nice job, Meeta! I'm glad you had fun with it, and can't wait to see what you work up next!