Well, here's the finished embroidery project that I was working on. It's a pair of "opposite" pillowcases, hand-embroidered in regular DMC stranded cotton.
I started embroidering the pillow cases about 3 weeks ago, then ran into a snag and wasn't able to stitch for about a week. They were for a contest, so I figured I'd just scratch the idea. But yesterday, I decided to at least try to see how far I could get, as I didn't want to waste the effort. Besides, if I hadn't pushed myself to finish for the deadline, I would probably have never finished the stitching!
They lack a couple finished details: jumbo ric-rac (black on the white and white on the black), and some text. I was going to split the following line of poetry and put the appropriate half on the appropriate pillow case. But oh well. I'll definitely add the ric-rac, since I think I'll give these away as a Christmas present.
This is the line:
Golden slumbers kiss your eyes, Smiles awake you when you rise.
–Thomas Dekker
So here are some photos of the project:
When I was in college, one summer I designed and copyrighted a line of notecards and stationery called "A Few Good Laughs," which I sold to make money for school. I drew the circles by tracing pennies, and filled in the circles with caricatures of laughing faces. For the pillow cases, I traced the lid of a vitamin bottle and free handed the faces.
The white pillow cases are the "awake" ones. I should've gotten a better shot of the individual pillow cases! Darn.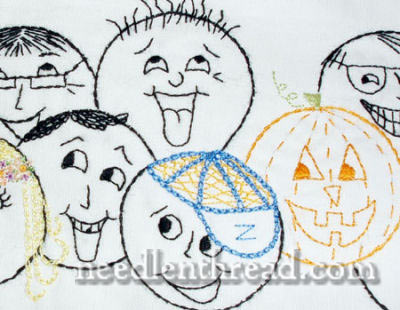 And here are some close-ups on faces. I embroidered the black pillow case first, and the kid with the ball cap has an "A" on the cap on the black one. So I put a "Z" on this one…
A little long-and-short stitch bow on this chubby baby…
A little flower girl here. She's a bit fuzzy around the chin. I had part of a small skein of black DMC when I started this… so I was running short by the end! I had to make my threads last a bit longer than usual. I learned a lot on this about fabric: I don't like working on blends! And passing through two layers is hard on thread. I should have bought the cotton and made my own pillowcases! Also, I could've waxed my threads to alleviate some of the wear, but it would've taken too much time. Ah well. Next time! (?? Next time???)
Aargh, matey!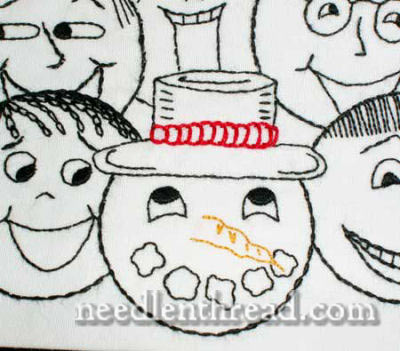 The white background necessitated a snowman…
And Santa… and a clown.
So that's white one close up – I'll follow with the black one ("asleep") tomorrow!
Between the pair of pillow cases, there are 19 different embroidery stitches used, and 46 faces altogether.
What do you think? Could I start a face-ish pillowcase trend?