I mentioned a while back that my Aunt was celebrating her 90th birthday, and I shared a photo of the embroidered paper card I made for her. Well, when my parents returned from Alabama, they brought with them something for me from my Auntie, so… I thought I'd show it to you!
Granted, this isn't embroidery. It's a different use of needle 'n thread (or hook, anyway). It's crochet! My Aunt Margaret (affectionately called "Auntie" by everyone), though 90 (and now pushing 91!) is a master with a crochet hook. She's made all her nieces and grandchildren and children and probably all her friends and their children (and on and on) crocheted afghans, sometimes full-sized and sometimes throws.
Auntie's crocheting is always perfect. You can't find a flaw in it if you wanted to! Here's the red-and-white throw she sent home to me:
I love it! It's the perfect size for everything – reading on the couch, even embroidering in the winter – and it doesn't have the extra bulk and length of a regular full-sized afghan.
I like the pattern on it as well – kind of checkered, but not really:
When I graduated from high school, Auntie made me a dark pink and cream full sized afghan. I took it with me to college, which was a good thing! I had a drafty dorm room, and that afghan, I'm sure, saved my life. I slept under it many a winter! I still have it and use it, too, thought it's now stored away for next winter.
My mom tells me funny stories about growing up "in the old days." My mother crochets as well, but she only learned because my Aunt forced her to. The story goes like this:
Margaret's a good 16 years older than my mom. At some point or another, Auntie got married and moved from Florida to Quonset Point, Rhode Island, where Uncle George was stationed in the Navy. Her little sister Laura Ann (my mom) eventually got married to my dad, a Navy pilot, and they were stationed at Quonset Point, as well.
Laura Ann could manage simple crochet, but not like Auntie, who made beautiful doilies. She visited Margaret's house one day and decided she wanted doilies for her house, too! And Laura Ann, the new bride, asked her sister to make her one. Mom was a bit "spoiled" (and perhaps a little demanding), so she probably didn't expect the answer she got! Well… being the Wise Older Sister (or just being ornery, I'm not sure which!), Margaret told her no, to make her own. But Laura Ann said she couldn't read the pattern. Margaret told her to figure it out!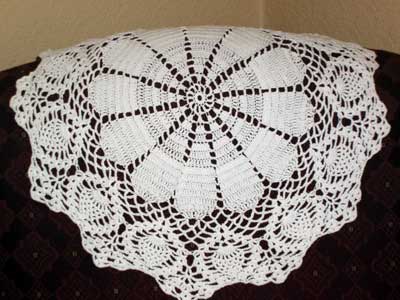 My mother's reaction: "I'll show her. I'll make BETTER doilies." She charged out and bought a book and figured it out herself. Whether or not my mom makes Better Doilies is not the issue! Thanks to Auntie's refusal to oblige the new bride, my mom can make beautiful doilies, among other things. Her obsession now is crocheted filet lace for church use.
But isn't that the way it should be? Teach others – or at least encourage them to learn – how to do some handwork, and they'll have something that will give them pleasure for the rest of their lives!
Thanks for the throw, Auntie!! I love it!