I had so much fun embroidering this little strawberry scene. There's nothing super-fancy about it, and certainly there's nothing accurate about it as far as nature is concerned, but the embroidery was fun! I learned several things along the way.
First, I learned about embroidering with Gilt Sylke Twist – some things work, and some things don't. Well, I should qualify that: they didn't work for me. They might work better for someone with a little more skill and a little more patience!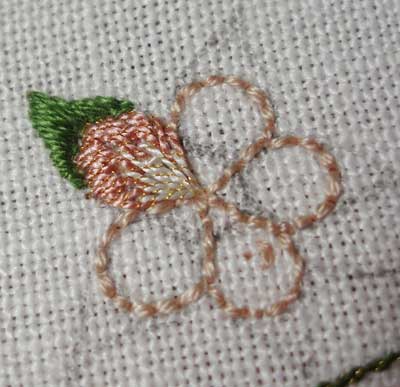 For example, long and short stitch and variations, worked on an arch, are probably not ideal with this thread. For one thing, the thread can't be split, so you have to come up between the previous stitches – which nudges them aside. Because of the stiff nature of the GST, they tend to stay nudged aside…
It doesn't look horrible, but it doesn't look that great, either!
For the blossom, I settled on long and short stitch in ecru and pink, with some highlights of the pink GST in the middle.
I like the way the blossom came out. I used some slightly darker brownish-pink in there, too, and between the petals for a bit of separation.
The leaves behind the blossom are worked in three colors of green: I satin stitched the whole leaf in a medium green, then I embroidered a few "shoots" of dark green up from the edge of the petal. Finally, I worked in a very light green at the tips, using just two stitches over each tip, in stem stitch, to give it a kind of curled look.
Another thing I learned: oh, yes, we all know it, but do we do it??? Think things through before beginning to stitch. I wasn't thinking when I stitched this stylized leaf (right – that's my excuse: it isn't supposed to look real!). I meant to do the long and short on the edge, exactly as it is done, and I meant to stitch the green GST on the edge as well. I even meant to work a stem stitch filling on the top section of the leaf. However, I did not mean to break the stem stitch scallops where I did! I should have drawn a line, slanting down in the direction of the scallops on the edge, and broken my scallops of stem stitch filling along slanted lines, so that those lines followed the direction of the long and short stitch.
But I wasn't really paying attention, and I didn't notice it until I was finished!
Another way I could have avoided those scallop-lines in the stem stitch filling altogether would have been to alternate the placement of the stitches in each row, not ending at a point each time I came down the scallop hill.
But like I said, I wasn't paying attention!
I also learned another thing I already know, but it served as a good reminder: line up your threads and the quantities thereof before you stitch. I ran out of the green I was using. You can't really tell, but it made the little turn-over at the tip look a bit different than I intended.
But, despite all the lessons, I'm still pretty happy with the way it turned out.
Oh – I learned one more thing. I will no longer be a fanatic over not wanting people to touch my embroidery. Usually, as a finger approaches, I spaz out – "Don't Touch!" When people see something like this strawberry, with the raised leaves and the sparkle of the GST, they can't resist it. They MUST touch it. So I learned that, sometimes, you just have to sit back and not get weird over people wanting to touch your embroidery. After all, they're learning, too!
Hope you liked my GST Strawberry Adventure! Now, on to other projects!