I love receiving mail – you know, the kind that really comes in the mailbox! It's always a thrill to come home from work to find something waiting, and yesterday, I received some embroidery threads! Well, combine the whole notion of Real Live Mail with Embroidery Threads, and you can imagine how delighted I was!
Paula Hewitt sent me along a wonderful little card of samples of embroidery threads. They included threads manufactured by Colourstreams, Cascade House, and EdMar. And they're all gorgeous! Thank you, Paula!
The first thing that struck me about the Colourstreams was – strangely enough! – the colors! They are really beautiful, vibrant colors!
All the threads on the left side of the card are by Colourstreams. They have names like seascape, Marrakesh, water nymph, Monet, faded rose, nasturtium, verde, and meadow – and all the names fit!
Water nymph, for example, features tones of stunning ocean blues.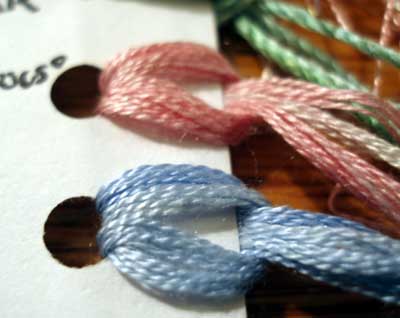 Some of the Cascade House threads are stranded silks. The stranded silks remind of YLI embroidery floss in size and twist. They are soft, with a nice sheen. There's also a Lamé silk – it's a pearl silk with a small filament of gold running through it.
The EdMar threads are a twisted rayon used often for Brazilian embroidery, but suitable for other methods as well. They have a nice sheen to them, and are characterized by the "boingy-ness" of rayon.
Colourstreams and Cascade House are produced in Australia. While Colourstreams has a few US distributors listed, Cascade House seems to be sold solely in Australia.
I haven't stitched with any of the threads yet, but I'm excited to try them! It's true, and you all know it, so I'm not ashamed to proclaim it – I have an infatuation with fibers. One of my upcoming Big Projects is to work up some photo comparisons of different threads, similar to my comparison of twisted silks and flat silks. However, one thing I'm going to do first is procure a better set-up for photographing threads up-close. I also want to provide stitch samples using the threads I compare.
I think it's nice to see a thread before buying it – and to get opinions on how well it stitches up. But really, when it gets down to it, the touch is always the sell point for me!
Thanks again, Paula, for feeding my "fiber infatuation"!
I'll keep you all posted on what I do with these! In the meantime, I hope to have some serious needle 'n thread time this evening, so I can give you an update on my current projects – a couple underway, and the initial stages of a big needlework project with a short deadline.