Coton a broder is a 4-ply, non-divisible embroidery floss that comes in different sizes, all the way up to #40. The higher the number, the finer the thread. It is usually sold in white, although in the lower numbers, it can be found in colors. In higher numbers, it usually comes in white, and occasionally in ecru.
This thread is my favorite thread for whitework, and it's excellent for monogramming. This summer, with my adult embroidery class, we'll be working some simple monogram designs on guest towels. But we won't really call it whitework, because the towels are natural, oatmeal-colored linen. Have you ever seen a "natural" colored linen embroidered with white? It's quite stunning!
I got the idea from Country Bumpkin, to tell you the truth! The first source of inspiration was their book, Monograms, by Susan O'Connor. I fell in love with the cover of this book, which prompted me to buy it. Although we aren't supposed to judge books by their cover, I did judge this one right – it's a wealth of information and good techniques for hand embroidering monograms.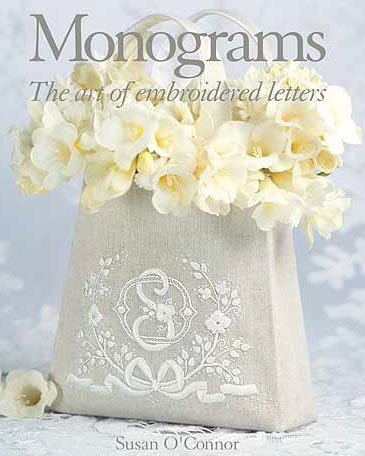 Then there was a project called "A Fine Tradition" (also by Susan O'Connor) in Inspirations issue #55. While our monograms will not be quite of this caliber, my plan is a simple, tasteful design like this one, which bespeaks such elegance in my mind!
So I've got the supply of natural linen towels all washed and ready to go, which is only the minutest step towards preparing for this class. Next, I've got to get the designs ready, and pick out an alphabet.
But before I do that, I just realized that I am chock out of coton a broder, and so I've placed various orders.
Here are some resources if you're looking for this thread, which I think is really indispensible for anyone who likes whitework.
The first source is Lacis. Check under "materials" in their online catalog, under cotton cords and threads. Coton a broder in sizes 16, 20, 25, and 30 are all $1.50 a skein (anywhere from 23 – 40 meters per skein). #40 (which I believe is supplied by Anchor) is $4.00 / skein.
You can also find coton a broder #40 (Anchor) from Wendy Schoen Designs, for $4.00 / skein. If you have other goods to purchase from her, it might be worth your while to check out her shop. For example, she sells floche (similar to coton a broder, but 5-ply instead of 4). She even sells it in very nice sample packs!
So if you've got any monogramming on your list for summer embroidery projects, now you have some resources for just the right threads. Incidentally, I'm working on a personal project (a gift) right now as well, and it will be white-on-white. I've got a deadline on this one, so it's a darned good thing I realized I needed thread! Phew!
That's what I'm up to, then. Not too exciting! But at least each day I get a little closer to having my classes solidified and everything ready to go. Then, we can have some real fun! I'll definitely share pictures with you along the way!

Tags