Since we're on the subject of hand embroidered monongrams (are you sick of it yet?!), I thought I'd share with you an alphabet! Unfortunately, it has to come in bits and pieces, since it requires a lot of clean-up work!
Here's the first letter! This is taken from an old publication (1912) called La Broderie Blanche, an old French magazine that sported lots of embroidery patterns. The image is not as clean as I would like, but it does suffice for a pattern!
You can enlarge the monogram or reduce it either on your computer or on a photocopier. An easy way to transfer the monogram onto white fabric is to use a sunny window. Tape the monogram onto a sunny window, tape your fabric over it, and trace it. If you have a light box, it may save your arm a bit!
You can also trace the monogram onto good tracing paper (use red ink), then turn the paper over and trace over the design with either a regular #2 pencil or with a white dressmaker's pencil (if you're transfering onto darker fabric). Place the monogram red-ink side up on your fabric where you want it, and use a ball point pen (don't break through the paper!) and trace back over the monogram. This should transfer your design clearly enough to see it, and then you can go back and touch up if needed.
Anyway, here's the A. I'll post the rest of the alphabet as I get it cleaned up.
Ain't it perty? I love this alphabet! I like it a lot better than the one I used on my guest towel project; it just lacks the convenience of an iron-on.
As far as embroidering, and what stitches to use, it really depends on your project. If you're doing something large, like a pillow case or sheets, or something medium-sized like a guest towel, you could outline the letter and fill in with tiny seed stitches, then satin stitch the flower petals and leaves, which would give a nice, light effect, and good contrast in texture and so forth. If you're doing something small, like a hanky, I'd probably go with overcast (barely padded, if at all) satin stitch. For hankies, the monogram needs to be pretty small, so in reducing this, I think you'd get to the point where you wouldn't have double lines on some parts of the letter. I think overcasting would work well in areas like that.
If anyone's positively antsy for a specific letter, let me know! I'll skip ahead.
For more monogram patterns, please visit my Index of Monograms for Hand Embroidery.
Favorite Monograms – PDF Collection
You'll find this complete alphabet – along with 15 other decorative alphabets – all in one place in Favorite Monograms, a downloadable PDF collection of 16 monogram alphabets perfect for hand embroidery and other crafts.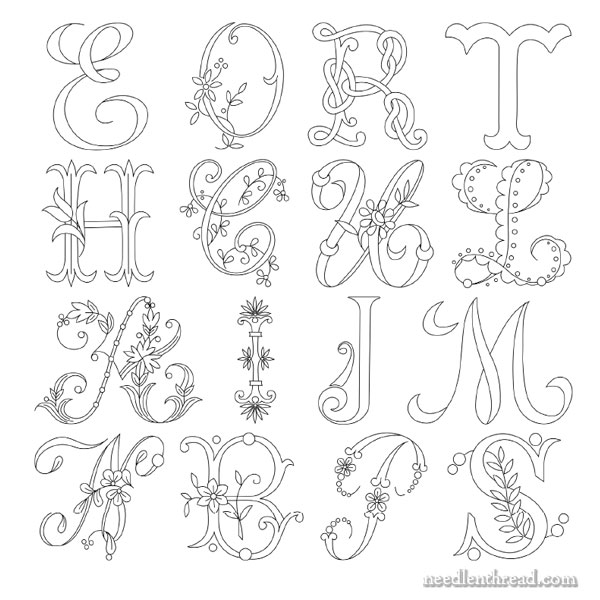 In the photo above, you can see samples of each alphabet available in Favorite Monograms.
Each letter in each alphabet in Favorite Monograms has been carefully traced into a clean line drawing that can be easily enlarged or reduced on a home printer or a photocopier.
The 16-alphabet collection is delivered as via a download link to your inbox shortly after purchase, so that you can begin creating right away! Priced at less than $1.00 per complete alphabet, monogram lovers can't go wrong with this collection!
Favorite Monograms is available in my shop, here.