Sorry about that big blunder yesterday! If you want to embroider a "C" on something, here's the design for the monogram!
In case you're debating how to transfer your monogram to your fabric before embroidering it, there are a number of ways to do that. For the oatmean colored guest towel I embroidered, I used an iron-on transfer, so I didn't really have to deal with that issue. When you're printing a design, though, you do.
I find the most accurate way to get a pattern down for a project is to trace it. If you don't have a light box, use a sunny window, taping your pattern to the window and your fabric on top of your pattern. Use a regular #2 pencil and trace it lightly. If you're sure the design will be completely covered by your stitching, after you've traced it with the pencil, you can go over it with a fine-tipped micron art pen.
The pencil will wash out! I generally starch my fabric and iron it well before tracing on it with a pencil, and the pencil always washes out. The pen will not wash out.
And, as I've mentioned before, if you don't want to trace, you can always use dressmaker's carbon – or turn your design over and trace it with pencil on the wrong side, place the pattern on your fabric (pencil-traced side down), and, using a ball point pen or a stylus, trace over the pattern. In effect, you're just making your own carbon paper…
Anyway, I know I harp on the design transfer point a lot. It's one of those questions I get asked a lot!
Here's the C – yes, it's the C!! This design was pretty messy, so you can probably tell where I've reconstructed some of the lines. I probably should have just reconstructed (redrawn) the whole thing!
For other monograms, check out the Index of Monograms for Hand Embroidery!
Enjoy!
Favorite Monograms – PDF Collection
You'll find this complete alphabet – along with 15 other decorative alphabets – all in one place in Favorite Monograms, a downloadable PDF collection of 16 monogram alphabets perfect for hand embroidery and other crafts.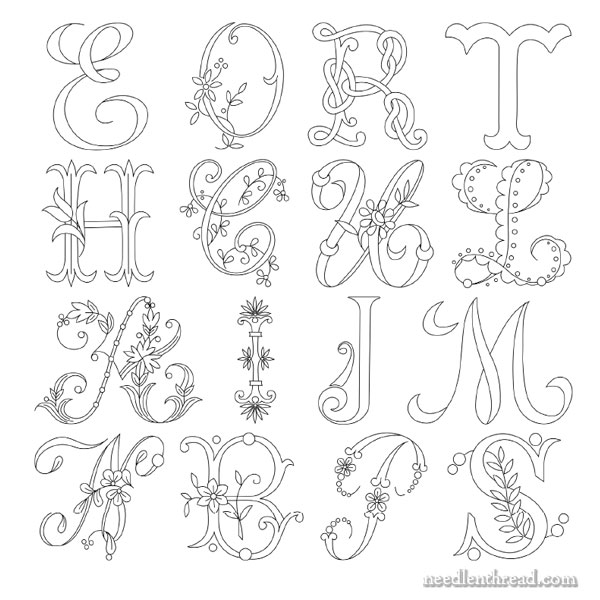 In the photo above, you can see samples of each alphabet available in Favorite Monograms.
Each letter in each alphabet in Favorite Monograms has been carefully traced into a clean line drawing that can be easily enlarged or reduced on a home printer or a photocopier.
The 16-alphabet collection is delivered as via a download link to your inbox shortly after purchase, so that you can begin creating right away! Priced at less than $1.00 per complete alphabet, monogram lovers can't go wrong with this collection!
Favorite Monograms is available in my shop, here.