Have you ever had a hankering to make your own Bayeux Tapestry? Yes, this is rather a light post – it fits well with the animated Bayeux Tapestry post of last year, although you might have a little more creative fun with this one!
Here's your chance to take your place in needlework history by making your own Bayeux Tapestry!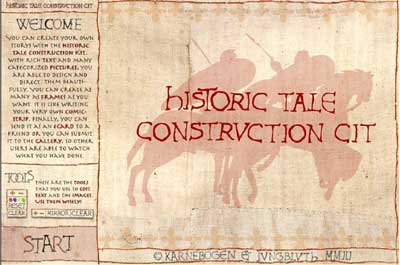 The Historic Tale Construction Cit is a drag-and-drop, make-your-own virtual tapestry website. It's hilarious, and really clever!
You can choose from a variety of folc, brave (people, horses), beasts, buildings, and miscellaneous items, drop them on your tapestry, re-arrange them, and add text as you go, until you have a whole historical tapestry account of whatever Important Event you want to record!
The characters and images are diverse – from a kid with a sheep, to the fallen and slain, to the cook, the dogs, the donkey, birds, kings, buildings, ships, and trees – and you can add scenes as you go (because of course you've got to use every possible image on your tapestry!)
Your masterpiece can be as clever as you want it to be, or as mindless…
When you're finished with your masterpiece (it won't take nearly as long as the original took, I'm pretty sure!) you can save it to the gallery or e-mail to a friend.
If you're a fan of historic needlework (with a sense of humor), check out the Historic Tale Construction Cit!
And have fun with it!
Thanks, Margaret, for the fun link! (…where I've whiled away how much time now??!) (Update, Aug 2011: website no longer exists – but it was fun while it lasted!)