Here are two monograms for hand embroidery – the "O" and the "Q."
Since these are the same letters, I thought I'd post them in the same post. The only difference between the two is the "tail" on the "Q."
I hope you enjoy these! If you embroider anything with them, let me know! I had an e-mail from someone yesterday who said she was going to embroider a whole quilt with the whole alphabet! I can't wait to see the restults of that!
Here's the O:
And here's the Q:
If you're looking for a specific letter, check out the rest of the alphabet at my Index of Monograms for Hand Embroidery.
EXCITING NEWS: Ahhh – breaking news. I'm very excited about this! Thanks to Margaret C. (the other MC!), who developed and sent me an excellent series of video tutorials on using Inkscape (free software for creating vector images), I can now give you a Much Cleaner Version (no comparison, really) of these letters! I'm hoping to show you what I mean when I post the "R," which still needs a lot of tweaking, but which will be up soon! THANK YOU, MARGARET!!
Favorite Monograms – PDF Collection
You'll find this complete alphabet – along with 15 other decorative alphabets – all in one place in Favorite Monograms, a downloadable PDF collection of 16 monogram alphabets perfect for hand embroidery and other crafts.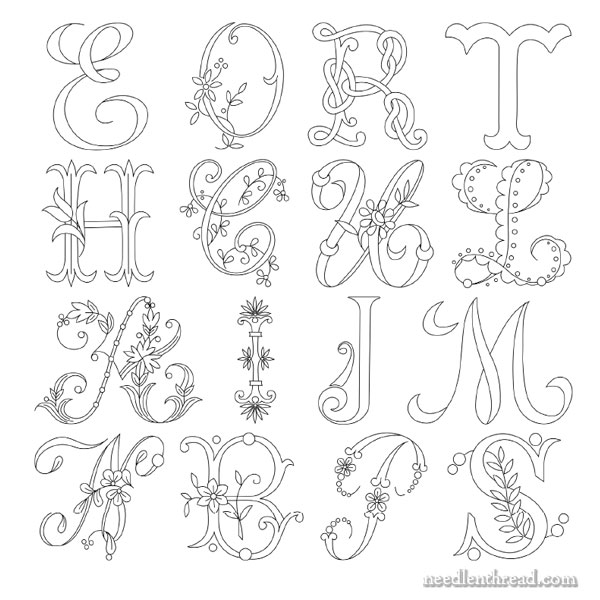 In the photo above, you can see samples of each alphabet available in Favorite Monograms.
Each letter in each alphabet in Favorite Monograms has been carefully traced into a clean line drawing that can be easily enlarged or reduced on a home printer or a photocopier.
The 16-alphabet collection is delivered as via a download link to your inbox shortly after purchase, so that you can begin creating right away! Priced at less than $1.00 per complete alphabet, monogram lovers can't go wrong with this collection!
Favorite Monograms is available in my shop, here.