I don't usually gush on about good days, bad days, and the like. Pretty much, I have relatively even days – but today was a banner day, for a number of reasons, and I'd like to tell you about one reason and show you the other!
First, the telling:
You know my embroidery stash contests and book give-aways? Well, I recently fell behind on mailing. So, if you are waiting for something in the mail from Needle 'n Thread, guess what? It's finally on its way! Our post office has strange hours. It is never open when I'm not at work. But today I was off early, so … I finally made it! I was one of those last-ten-minutes-of-the-day customers with-lots-of-packages-to-mail, all of which had to be fit-into-the-right-sized-mailer and then addressed-at-the-counter, after which I had to fill out customs forms. Oh boy. I kind of felt bad. But if they would change their hours…..!!!!! However, in a spirit of great congeniality, I chatted with the lady behind the counter, and all got safely posted. I feel as if the burden of the world has been lifted from my shoulders (a slight exaggeration, but it is nice to have that off my mind!)
And the showing:
The day after I went thread shopping for the first time in eons, I placed an order for some threads, and today, they arrived! Now, you may be thinking that's a heck of a long time to await an order, but in all fairness, most of the order was made up of special orders. So once they were all in, Needle in a Haystack sent the order out in good time, and here is what will be my Last Purchase of Embroidery Goods for a Very Long Time.
And because of that, I shall revel and rejoice and enjoy my socks off with this shipment of goods. So let me show you what came today that has me all Giddy with Excitement.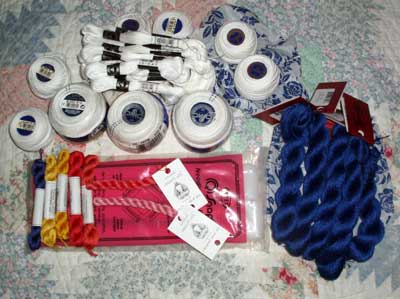 This is the whole shipment. Ok, ok. So it doesn't look that thrilling. Well, let's look individually at the items, and see what they all mean.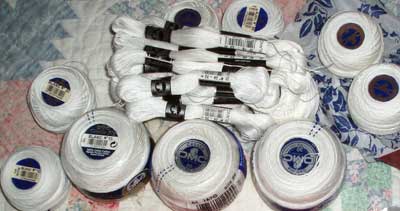 This is a heap of white thread. Cordonnet and Cebelia in a vast variety of sizes, along with several sizes of coton a broder. For whitework? Well, some of it, yes. For needlelace? Well, yes, some of it. For filet lace? Oh, yes. That's the exciting part. I'm going to rope my dear mother into following through on her initial interest in "perhaps trying" filet guipure. And since I have the threads – and I have a goodly supply of netting of the knotted and unknotted variety – she will just have to succumb.
Needlework in the company of others is always fun, I think, don't you? So I'm looking forward to that. We'll probably argue quite a bit. I can't wait!!
Then there are these few new threads to try, which I will tell you more about later, after I try them. I don't want to horn-honk on any thread until I try it, but I sure do like the colors! Behind the thread, you see – yes – Q-snaps. I have succumbed to peer pressure here. Generally, I like wood. I know people out there may think that's really rather narrow-minded, but I like wood frames, wood hoops (the good ones), wood slate frames, wood stretcher bars, wood scroll frames… wood. Using plastic for tension does not tickle me. BUT – peer pressure won. So many people have recommended and raved over Q-snaps that I decided to give a set a try. I'll try them and let you know what I think of them. I don't want to offend anyone, but the truth is, if I don't like them… I'll probably say so! But that sounds so negative. As Alfred P. Doolittle would say, I'm willing to try them. I'm wanting to try them. I'm waiting to try them.
And then… aaaaaah…. see that pile of blue? That, my friends, is a pile of blue Impressions, for the background of the Pelican. I ordered larger hanks, all the same dye lot. And once my current goldwork project is finished, I launch into the Pelican for a good bit. Joey – if you're reading – no, I haven't tried them yet, but I will soon!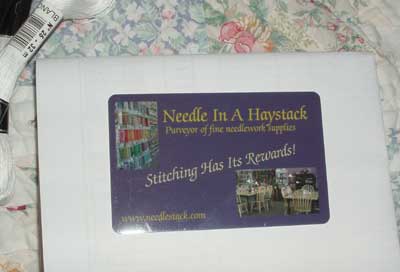 And finally, this is the Needle in a Haystack Stitching Has Its Rewards card. Oh, golly. How long have I been ordering from them, and I never knew about this? I finally started reading their newsletters and blog, and low and behold… I got a card. This means that I can build up rewards points that equal cash off my next order. Unfortunately, I won't be placing another order for a while. But hey. Some day I will. And gosh, I just feel really good about being an official card-carrying stitcher.
So that was my banner day.
It was un-banner day in the fact that I didn't get a post published this morning (sorry), and I didn't get the write-up finished about my concept of long-and-short stitch lessons, and I didn't get the face transferred. But I did dig out this:
It's my flesh tone package of Soie d'Alger. Did you know you can order a whole set of only-flesh-tones of Soie d'Alger? I've had these for two years. I'm finally going to use them!
Thank you all for your good advice on the face. I will take each bit of advice and try it out, and let you know what actually ended up working out best!
I hope your Monday was a banner day, too! See you tomorrow!

Tags