I think I mentioned in my carrot post that, among my present line-up of needlework projects, I've got a small goldwork project I'm working on as a wedding present for my niece.
I can safely mention the wedding present thing, by the way, because no one in that branch of the family would ever even think of looking at my website….! So don't worry that I'm giving away a surprise!
Back to the project…
As I mentioned before, I'm not able to blog about the whole goldwork project right now, or even show you complete pictures. But I wanted to show you a technique that I've never used before, that I learned while working on this particular project. I think the resulting look is really beautiful – perhaps you'd like to try the technique, too.
See the edge on the embroidered area there? Nice, isn't it? This is a "non-traditional" goldwork technique. I've seen it before, but never used it, and didn't really know what it was all about. But it's simple, and I think it's ever-so-pretty – but then, I'm a sucker for gold and for anything that looks like a twist!
Incidentally, I was already working on this project when the A-Z of Goldwork arrived. They describe this technique in detail in the book, and some variations on how to work it. I'm just going to cover one here.
You start with a piece of pearl purl – this is a hard metal thread wound in a tight spring. Usually, when you couch it, you couch with gold-colored couching thread, slipping the thread between the coils in the spring. Pearl purl makes a beaded-looking outline, and it's very pretty. It's also very stiff and very hard, so make sure you're using scissors assigned only to cutting metal threads! This is pearl purl #1.
Stretch the pearl purl to about twice its length. Now, pearl purl won't return to its original twist once its stretched – you can't un-stretch it. To stretch it, grasp the two outermost beads on the cut of pearl purl you're stretching, and pull with an even tension.
Here, you can see the two pieces next to each other – the original pearl purl on top, and the stretched pearl purl below it.
Then, take your floss. Here, I'm using four strands of Au Ver a Soie's Soie d'Alger. Strip the floss in the normal method and put it back together.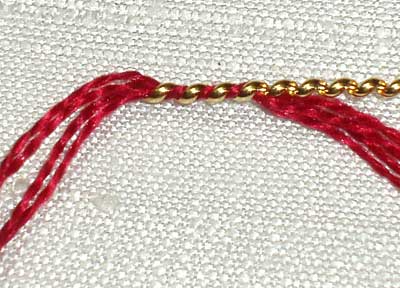 Leaving a length (about an inch) of floss hanging off the end, wind the floss around the stretched pearl purl, so that it tucks in between the gold. This part's actually really easy – it just slips right into where it belongs as you turn the thread.
It may be tempting to just hold the pearl purl in your finger and roll it, allowing the thread to work into the grooves of the twist, but I noticed this twists up the thread quite a bit. It looks better if you do the twisting with the actual thread, not with the gold.
Continue wrapping the thread around the gold until the whole piece of wire is wrapped, and leave a tail of your floss at the end. I actually just left the whole length of floss at the end. It gave me something to hold onto while couching, so I didn't have to touch the gold much.
Couch the pearl purl / floss combo onto your project using the same thread used to wrap the coils. Use one strand. I couched at each wrap, so that the thickness and look of the wraps was even all around.
Alternately, you could use the large bundle of thread as your couching thread (or one piece of perle silk or cotton), and couch between each stretched wrap on the pearl purl. But I tried that, just for kicks. It's easy enough, but it seemed easier to me to get full coverage – a complete "look" – around the pearl purl by wrapping it first.
So – there's an easy and really pretty edge treatment for your future goldwork projects. I'm sure lots of embroiderers out there into goldwork already knew about it, but, for those that didn't – like me, you can delight in a new technique!
Check out the complete and framed Golden Pomegranate goldwork project here, with close ups of the whole piece.