Here's a neat resource for some needlelace, filet lace, and other lace patterns that can be adapted to different types of needlework….
BibliOdyssey recently posted photos from old Lace Modelbuchs (Pattern Books). You'll find some beautiful examples of needlelace patterns, as well as some grid patterns that can be used for filet lace or adapted into cross stitch or needlepoint patterns pretty easily. I like old books like the ones featured here. They're exquisite.
I think I've mentioned before that I'm not a lace maker, though I have delved into different types of needle lace, including filet lace (the real stuff, not the crochet), cutwork (can it properly be called lace? probably not), drawn thread work (again, would you call it lace? perhaps not, though it can sometimes look pretty lacy) and traditional needle lace for inserts to whitework projects and so forth.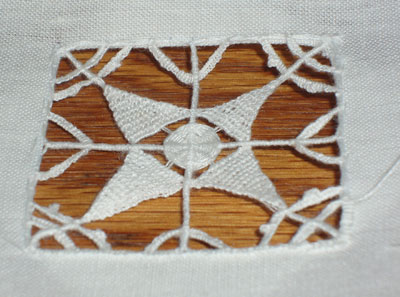 My picots stink in that piece. I've improved the technique somewhat since then. It takes some doing, working picots that size with a needle and tiny thread. I think in that piece I was working with size 100 linen thread.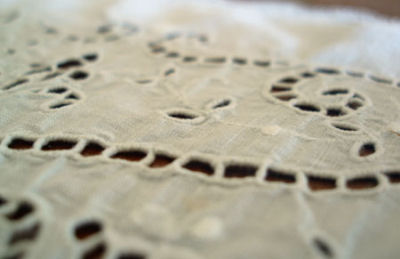 I haven't worked much on my cutwork techniques. But someday, when I go back into whitework (I'm still glutting on color), I'll take it up again.
I like the idea of lace making – and golly, I'd love to learn how to make bobbin lace. Have you seen the bobbin lace at Plimoth Plantation that they're making for The Jacket? It's seriously stunning stuff!
I did sally forth into one bobbin lace venture many years ago. It was after visiting my sister in Washington, DC. We went to one of the Smithsonians (I think it was the National Museum of American History). There, I saw a fantastic example of embroidery – it was worked by sailors of yore, on old sails, with all kinds of fibers from their shirts and clothes and stuff. It was fantastic!
But what caught my eye and completely captivated me was the lady sitting across from the exhibit – an exhibit unto herself – with her lace pillow and some 180 (or some such number) bobbins that she was flipping about, flipping some more, her fingers flying hither and thither, with a twitch of the wrist and swift cross movement of her hands, shifting the bobbins until they looked like they were moving on their own accord across the pillow, inserting pins, and on and on … all while chatting with people! And there, before her, a delightful pattern of airy lace was forming with practically no effort (so it seemed to me!). I was astounded, captivated – in short, really impressed. I just Had to Learn to Do That.
It so happened that there, or at another museum close by (somewhere along the journey), I was accosted by a beginner's bobbin lace making kit. It beckoned me, and I heeded its call! Ok, so the "pillow" was a kind of styrofoam board thing. But – I was game. I invested.
Yes, so anyway. As I said, I'm no lace maker. But gosh, don't you love the stuff?
I'd like to embroider on net – you know, the fine, sheer netting that bride's veils were made of back in the days before puffs of tulle? Not your typical tulle. No, no, no! The stuff that drapes and hangs beautifully and is ever-so-lovely as it falls about the shoulders limply. I have looked for such netting. I've bought samples from Lacis, from Martha Pullen, and from several other sources that advertise netting for veils. But it's always … tulle. It's stiff, even after washing the sizing out. I don't want to make a tutu. I want to make a drapey, light, spilling veil! Alas, I haven't found the stuff yet. Or maybe I just don't know what to look for!
But I did buy a book. And some day, I'll find what I'm looking for. And then – look out, world! I will become a Maker of Lace!
Either that, or this will all go the way of the bobbin lace kit…. !
Enjoy the link to BibliOdyssey. He's got a bunch of other resources listed on there, too. If you ever become a maker of lace (or if you are a maker of lace) and come across that mysterious drapey netting, I'd love to hear about it!