I finished the hand embroidery on the corner of this bread basket liner — well, it's a towel, actually, but it'll be used as a bread basket liner.
I made a mistake on part of the embroidered design – can you find it?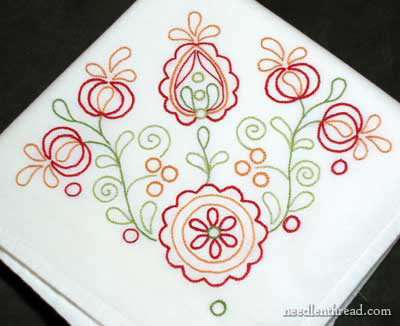 Unfortunately, I tend to be the type of stitcher who gets caught up in the mistakes on my work. I really see them! And perhaps that's the case with most stitchers and crafters. But sometimes, I think it's quite alright to let a mistake go, and that's absolutely what I'm doing in this case!! But I'd be interested to know what you would do… would you take it out and re-do it?
Have you found it yet? Here's a hint:
And here's the other hint:
Would you re-do the little circles? I'm not. If nothing else, they make it characteristically hand stitched. A machine would not have made the mistake of stitching a mirror image using a completely different stitch!
I'm making a series of these towels, with similar, simple corner designs, for my sister for Christmas. She's a cook and an entertainer – she has large crowds at her home often for big meals. In fact, I think her daily meals for her family (and friends – there always seem to be guests at her table) would be considered "fancy" meals for most people. She's the Queen of Hospitality, and a great cook. She always sets a nice table, not just on formal occasions, but for casual daily dinners as well. One of her signature items is bread. A day doesn't go by that she doesn't have bread going – rising, baking, rising, baking – the smell permeates the house. She makes artisan loaves of naturally leavened bread; she makes French and Italian breads; she makes great crusty dinner rolls and melt-in-your-mouth soft rolls and fruit and nut breads; she grinds her own wheat and makes a wonderful, nutty wheat bread as a regular staple for the family. With crowds at the table, she uses large baskets lined with flour sack towels for bread. I thought a set of nicely embroidered flour sack towels to use solely for lining bread baskets would be a good gift.
So, let's see – how far away is Christmas? I've finished one towel. I have a Christmas-themed one in the works. I intended to make six towels altogether. I figured I could make two a week, and still stitch on other necessary items, if I stuck with Really Simple Designs, like the one featured here. But the Christmas one is slowing me down! I wasn't supposed to fill in the designs, but satin stitch seemed perfect for the berries, and the pine cones look better in long and short stitch than they do merely outlined. Aaargh. Six might be a bit ambitious at this rate!
Anyway, I'm still trying to dig up some simple corner patterns. The one I used on this towel above was a lot of fun – I may do it again, in a different color scheme. I may draw up a wheat pattern to use, too, if time allows! I'd like to share this pattern with you, but it isn't mine. I need to check the source (it's from a huge envelope of older patterns that a friend dropped off one day) to see if it's copyrighted.
And, finally, speaking of time – I'm out of time for the day! I hope all you Americans have a great Thanksgiving weekend. Teaching has its advantages – I've got a four day weekend, during which I plan to get some serious embroidery done and I hope to devote a lot of time to the website, too. I've scheduled a filming session for Saturday mid-morning, so keep your fingers crossed for me! If I have sunshine and a relatively quiet day, I should be able to actually finish some of those hanging video tutorials of more embroidery stitches!
For now – I must go bake pies!