I love satin stitch. I think it's one of the prettiest embroidery stitches. When done well, it reflects a simple elegance that just can't be surpassed on embroidered goods. I think there's a huge difference, too, between satin stitch worked by hand, and satin stitch worked on a machine. I've yet to see machine satin stitch that can quite compare to satin stitch worked by hand, when well done. Well, I just like satin stitch – what can I say?
Usually, though, when I see satin stitch, or when I work something in satin stitch, it's in combination with other stitches, and in small quantities of spaces. That's one of the reasons I am in absolute awe of Charlie's embroidery. To understand, you have to see the pictures – words aren't enough for this project!
A little background – Charlie sent the photos in response to my comments on the creative process that often involves picking things out, and how we learn from picking out as well as from putting in stitches, and from experimenting as we go.
Charlie got back into embroidering when she worked a quilt square for a commemorative quilt in honor of a good friend who died young. The quilt is for her friend's daughter, and each square incorporates a scrap of fabric from her friend's clothes. When she set out on this project – it's amazing in itself – she was using six strands of DMC all at once, not realizing that she could reduce the number of strands!! But it doesn't matter – the outcome is fantastic. Take a look at this quilt square!
Then Charlie set out on her Jacket Journey, working on a completely hand embroidered jacket covered in satin stitch. She's designing it as she goes. By the time Charlie launched into the jacket, she realized she could reduce the number of strands of floss, and is working the whole thing in 3 strands of DMC, in satin stitch.
This is the first photo of the jacket that she sent me. I couldn't believe it! It's fantastic… I wanted more photos!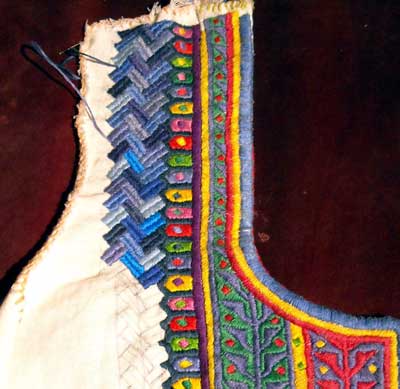 So she sent me more, showing the front sides – how she began them in one pattern (in the picture above) and then changed her mind, picked that out, and ….
… restitched the side in a smaller, more random block pattern. I love the vibrant colors – especially the various blues.
She's started on the jacket back as well – here you see the beginnings, in the pinks, which are surrounded by little quilt-looking squares in various shades of browns.
Then she's worked this yellow and brown motif along the sides of the back. Still, she's unsure whether or not she likes it here… so it'll be interesting to see if she keeps it or tries something else!
Now I have a whole new respect for satin stitch! The fun thing about this project is that Charlie makes it look and sound so fun! I think she's enjoying the journey! She's done an amazing job, and I can't wait to see what new elements get added, what gets taken away, and where the whole project goes. And I REALLY can't wait to see it sewn up! It'll be incredible – and what fun to wear and show off!
Thanks, Charlie, for sending me the photos all the way from rural Ireland! Good luck on the project and keep going!!