Have you noticed that weekends are a lot shorter than the work week? This tends to cramp my "embroidering style," but I can't seem to figure out how to do anything about it! I can never get as much embroidery done on the weekend as I want to, and during the work week, I can hardly get anything done! So, I'm enjoying my 15 minutes with my needle and thread.
A couple weeks ago, I introduced the topic of setting aside 15-minute needlework sessions, grabbed here and there during the day, to at least make some progress on embroidery (or other) projects. My point, I suppose, was that you can actually get a lot done in 15 minutes, and those 15-minute sessions do add up to real progress!
Admittedly, sometimes those 15-minute sessions can be a bit of a wash, like my last 15 minutes with my goldwork iris! Argh. I still haven't recovered from that one! But at least I learned something!
Here's a 15 minute session with my whitework sampler.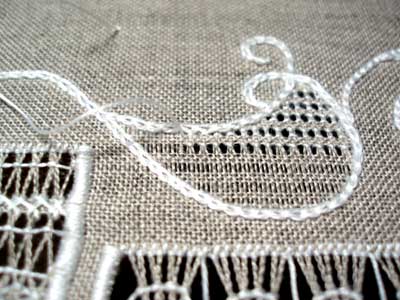 I mentioned the story behind these large curly things on my whitework sampler the other day. So, here, I am finishing the filling work inside this curl. The stitch is an un-named mistake, but would be called reversed wave stitch, if I had done it correctly! Heh heh.
So, I set the timer, and with great enthusiasm, I picked up my camera, snapped the above photo, and then grabbed my needle, and the race was on!
Wait! Wait!!
Stop!
Racing won't do!!
I found I have a tendancy to want to race in these 15-minute sessions. "How much can I accomplish in 15 minutes?!" But that's not the point. The point is 15 minutes of regular stitching, not rushed stitching! Besides, when rushed and feeling pressured, mistakes are sometimes more likely!
So, I snapped a picture, took a deep breath, sat back, picked up my needle, propped my feet up (on the couch!) and just … sttiiiiitched with nice, normal pacing until the timer turned off.
In the back my head, I was sure I could finish filling in this curl, and, while I was controlling the urge to really rush, I still figured I had it in the bag. Surely I could finish this filling…
But alas! No! I was just beginning to stitch the first stitch on the bottom of the second to the last row there, when the timer went off. Oh… I could've cheated. I could've kept going! I wanted to, that's for sure! But with other things pressing (like my first class starting in 10 minutes!), I thought it wise to stop!
So there's a 15-minute session. As usual, I was excited and fired up to get home and finish the filling! But as luck would have it, I haven't had a chance to get back to it yet! (Maybe tonight?!) I'll let you know!