Last time I mentioned the goldwork iris project, I was befuddled over what threads to use for couching. I went out to the studio, then, and decided to end my befuddlement.
I went through my selection of silk threads to see if I had anything I'd like better to use as the colored couching threads. While out there, I also dug through all my other threads, and happened upon – shock! horror! – some Sulky machine embroidery threads.
So I brought everything I found inside to the iris to do some pondering.
I pondered thus:
I like the fineness of TESS silk. This is Helen Stevens's silk thread line, made by the same folks who make Piper's Silk. But alas, as you may already be guessing…
… I don't much care for the colors I have on hand. The greens are ok – in fact, I like them! But the purples leave a lot to be desired, as does the closest color I came to "coral."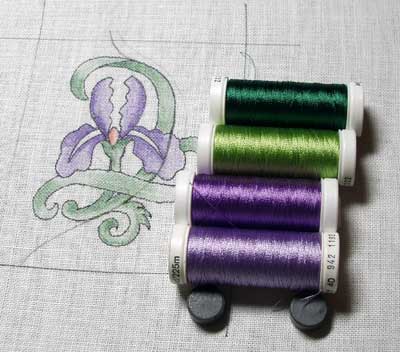 Pondering further, just for the fun of it, I lined up the Sulky threads. Oh – you have to admit – the colors are really nice! But something…. something…. just grates against the thought of using a polyester machine embroidery thread. *Sigh* Am I a fiber snob? I don't think that's exactly it. It's more a matter of the combination. Silk and gold just belong together!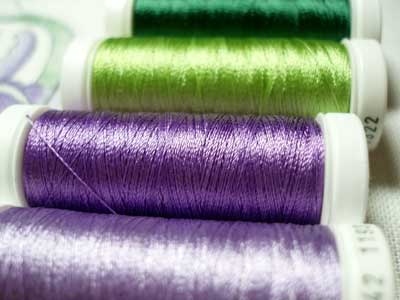 But wow. I do like the colors. I like the purples especially…
I furthered my pondering by stitching over the gold with all three threads, the Soie d'Alger I originally started with, the TESS silk, and the Sulky machine embroidery thread.
The Soie d'Alger is on the left, followed by the TESS in the middle, and the Sulky on the end.
My heart longéd for the right colors in the TESS! I love the look of that fine, flat silk over the gold! And it stitches well over the gold – very nicely! And the fineness of the thread is most excellent for the couching of the gold, varying the distance between the stitches and so forth.
Alas and alack, without the right colors, though, I knew I would not be happy.
I didn't much like stitching with the Sulky threads. I sort of knew I wouldn't. It looked ok, but not that great.
What do you suppose my conclusion was?