Finding slate frames for hand embroidery is no easy task. In the past, I introduced readers to Evan Burroughs, who made my large slate frame. I don't know if Evan is still producing the frames, though. I have tried to contact him, but with no luck. (Evan, if you're out there, please contact me!)
So, here I am again, looking for a good source for frames, and realizing that it might be necessary to find someone again who can make them! In the meantime, though, I want to talk to you about another aspect of the slate frame – trestles.
There are few professional embroiderers who don't agree that the best possible way of achieving tension for hand embroidery – and especially for more complex techniques such as goldwork – is to use a slate frame. In days of yore, the slate frame was widely used, and it was used in a variety of sizes – from small to really quite large. In some books, you can find illustrations of slate frames with more than one person at the frame.
In 18th Century Embroidery Techniques (see my review), Gail Marsh shows a massive slate frame supported across the back with a stabilizing bar, on which frame the embroiderer could lay out a large project – like several pattern pieces for a jacket – on one stretched ground fabric.
In several of the old books on ecclesiastical embroidery, the guild workplace is shown with large frames on which whole banners, chasubles, etc., are stretched. Large works, indeed! At the beginning of Church Embroidery and Church Vestments (PDF – scroll to page 12), you can see a photo of ladies in the guild room, two of whom are sitting up to one slate frame, working.
Today, the slate frame is still used – it is not defunct! Despite the convenience of hoops, of stretcher bar frames, of plastic Q-snaps, and so forth, the slate frame is still employed by serious stitchers. Its revival in popularity is certain to continue growing, as more people take interest in historical needlework, and as the interest in techniques such as goldwork also continues to grow.
I've used a slate frame. I have a large one, so I don't use it as often as I would like! I would like a medium-sized slate frame and a small one, but there will be time for that in the future – if I can find a supplier! There is nothing so nice as the perfect tension one can achieve with the slate frame, and the unpuckered, immaculate results when the piece is removed from the frame. It's wonderful!
The most difficult thing I've found about a slate frame is how to support the thing. Especially if you are working on a medium or large-sized frame, it is impossible to support the frame with one hand while stitching. At the same time, the slate frame tends to be heavier than other frames (stretcher bars, for example), and so commercial stands cannot support large frames, and cannot always support medium frames – or can "just" support them. Of course, there's always the two-table set-up, where the frame is rested horizontal, between the edges of two tables. But that has its drawbacks, I assure you!
In the past, the slate frame was generally supported by a pair of trestles. Originally, these were saw-horse type trestles, so that the frame rested perfectly horizontal, parallel to the floor, like a table, and the needlework sat up to the frame on a stool, and worked in that manner. Then, trestles began to develop a bit. You can see in the turn of the century book Church Vestments, mentioned above, that the "trestle" is actually an adjustable support, where the frame is placed between the body of the trestle and a top board, which is tightened down on top of it.
I've seen other set-ups of trestles, specifically some left over from convents that used to make embroidered vestments. These trestles were even a little more complex, and their adjustability allowed for the frame to be supported completely vertically (as is seen on the front of the book, Embroiderers from the Medieval Craftsmen series), at various angles, or flat.
While I was considering the whole dilemma of the elusive slate frame and pondering the notion of trestles, it so happened that a friend's dad volunteered to do some designing and building of a set of trestles – an embroiderer's workstation, actually, which could accommodate a slate frame (from small to very large), stretcher bars, and even hoops.
The concept developed by considering different types of trestle set-ups of the past (especially those found in convents before the 1960's), and understanding what the embroiderer today would want in a workstation.
Last week, the protype trestle workstation arrived. I want to show it to you and ask for your feedback.
They arrived in a box custom-made for shipping them.
Everything needed was included in the box. The carpenter (Brian) was very meticulous in the packing of the crate and in the assembly of all the pieces of hardware.
The prototype is made out of rough wood – not cleaned up or "beautified" yet. It's for testing purposes. Still, for being "rough," it's really nice. All the pieces were sanded and clean, easy to handle for assembly. The whole assembly process required me to use only a phillips head screwdriver to place 20 screws in the correct (pre-drilled) holes. (Good thing – I'm not so great with larger tools!)
Those are all the pieces, leaning up against the furniture. It looks complicated, but every piece went right together as the instructions indicated. It took me less than twenty minutes to put the whole workstation together for the first time.
These are the main pieces, though the leg braces are not attached yet.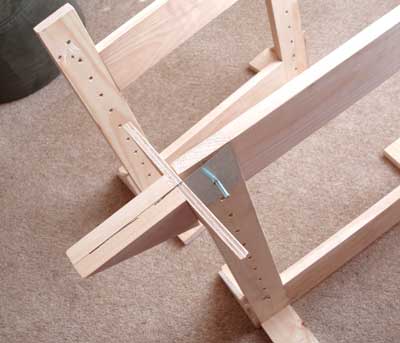 This is a shelf support.
This is the whole set-up, almost completely extended. On the sides, you can see that there are, front and back, adjustable vertical bars. Into those vertical bars are placed the supports for the dowels, which in turn support the frame. The dowel supports can be angled a variety of ways. I'll show this in more detail later, after I have played with the set-up a bit more.
Here's the set-up with a stretcher bar frame resting on it. The trestles have been moved closer together than they are in the previous photo.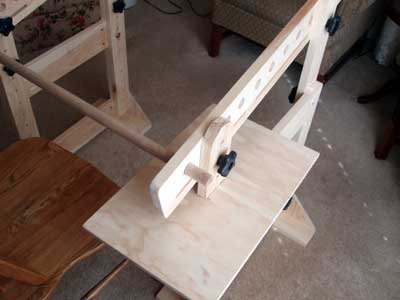 < /center>

This is an attached table, and the workstation actually has a variety of options for attached supply tables, clamped lighting and magnification, etc.

So here is the initial introduction to the trestle workstation. I'll be taking more detailed pictures of it this weekend, in "action." I've since moved it out to my studio, where I will be able to work better with it. I have a very small living room (smaller, I think, than most people's closets…) so the workstation tends to look larger than it is in the photos above (I'll measure it for an accurate "footprint"). When the dowels are removed, the two trestles can nest together to conserve space.

What I've learned about it so far: it is sturdy. It's like sitting down to a piece of furniture. This is the real thing! It goes together very easily. In concept and design, it makes good sense. There's a myriad of possibilities for extension and accesorization, but more on that later.

Brian, you are a wood-working wonder! Thank you!

Now, dear readers, do you have any thoughts on this? Do you see any glitches right off the bat? Does it raise any questions in your mind? Do you have any ideas that you think would make sense concerning the workstation?

I would really appreciate your input on this! You are, after all, embroiderers. You know what you would like, or what you think would make sense, in this type of equipment. How can this become the ultimate embroiderer's workstation?

I'll be sharing more details on this as I work with it, and let you know more detailed discoveries.

Thanks for taking the time to read and to respond, if you want!