If you've been around the online needlework scene for a while, you may have run across the Tristan Brooks Design website. It's been around for a while, but lately has undergone a facelift!
Tristan Brooks Design is the place where folks in the US can find Pearsall's Silks and Heathway Crewel Wools. You can also find some beautiful crewel kits there, with several that are suitable for beginners.
If you're not familiar with crewel work, all you have to do is visit Tristan Brooks, and you'll immediately see how beautiful it can be! The website is built around the look of crewel work, and the picture in the banner (as well as the photos of the various kits) are really sumptuous!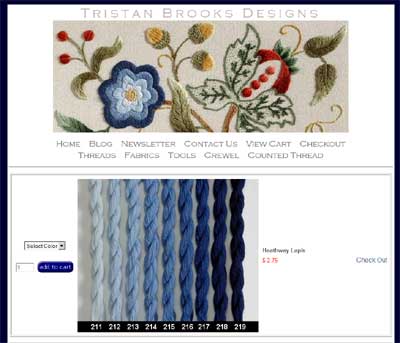 My favorite aspect of the overhauled website is the shopping feature, though. Although not all the shopping aspects are functional (the fabric page isn't up yet, for example!), the threads section is Terrific! You can see the colors of the threads you're buying, and there's an easy drop down box for color, then you just click into your cart, and you're done. You don't have to write down product numbers and submit an order form or anything like that. This is very nice!
You can also find slate frames at Tristan Brooks. I haven't tried them from there (yet), but they look nice, though a bit pricey. A 10″ frame is a whopping $63, but a 20″ is only $69. (The latter isn't so bad…)
So if you're out and about looking for some crewel projects or embroidery accessories, stop in at the Tristan Brooks Design website to see what they have. I'm looking forward to watching the site develop a bit further!