At long last, the end of this monogram alphabet! I don't know if there's anyone out there who will ever embroider this particular "Z" onto anything, but still, there's a great sense in satisfaction about completing this alphabet! So, here it is, the last monogram…
I hope you like the monogram alphabets I've been posting – if you do, let me know, because I do have others that I still want to add to this online collection of monogram patterns. But sometimes I worry that I bore you to death with these repeated letters popping up every now and then!
Well, without further ado then, here's the large Z:
And here's the small Z:
You can find the rest of this alphabet, as well other monograms, on my Index of Monograms for Hand Embroidery. If you're looking for stitching suggestions for this particular alphabet, check out the Celtic A Monogram, where I went into a little detail on how you might stitch it.
Favorite Monograms – PDF Collection
You'll find this complete alphabet – along with 15 other decorative alphabets – all in one place in Favorite Monograms, a downloadable PDF collection of 16 monogram alphabets perfect for hand embroidery and other crafts.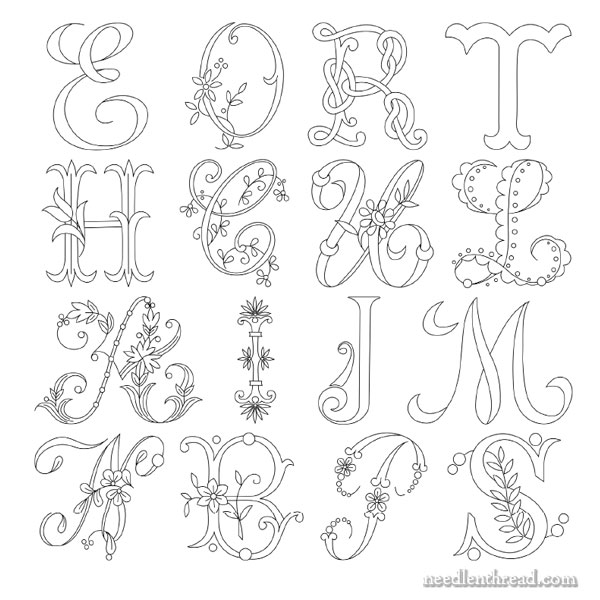 In the photo above, you can see samples of each alphabet available in Favorite Monograms.
Each letter in each alphabet in Favorite Monograms has been carefully traced into a clean line drawing that can be easily enlarged or reduced on a home printer or a photocopier.
The 16-alphabet collection is delivered as via a download link to your inbox shortly after purchase, so that you can begin creating right away! Priced at less than $1.00 per complete alphabet, monogram lovers can't go wrong with this collection!
Favorite Monograms is available in my shop, here.