I can't help it. I'm a thread junkie. And when there's a sale, it's Really Hard for me to resist – especially when it's gorgeous needlework fibers like those made by Gumnut Yarns, among other delicious little morsels….
Right now, Needle in a Haystack is clearing out some threads! They've got a really interesting selection of grab bags for Gumnut Yarns different lines of embroidery and needlework threads.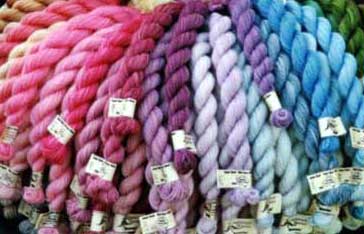 The grab bags are a really good deal! For example, you get 10 skeins of Gumnut stranded silk ("Stars") for $30 (regular price: $70). You don't have control over the color choices, but they've done their best to group the threads by color families, so that they aren't wild and weird mixes of color (thought sometimes, I like wild and weird mixes!)
Gumnut "Buds" (perle silk) grab bags are 10 skeins for $35 (regularly $85).
I like Gumnut threads. They're soft and beautiful and feel really nice. The only type of their thread I've ever stitched with, though, is "Buds" (perle silk). I liked it. I'd love to try their "blossoms" (crewel wool) and "daisies" (fine wool) and some of their blends. Unfortunately, they're very expensive threads, so the best way to get them, in my mind, is to get them on sale.
The names are a bit of an enigma, by the way. Here's the list of thread names and what they actually are:
Blossoms = crewel wool
Stars = stranded silk
Buds = perle silk
Poppies = 50% silk / 50% wool blend
Daisies = 1-ply fine wool (finer than crewel wool)
Tulips = kid mohair
Gemstones = variegated crewel wool (discontinued by the manufacturer)
Aztecs = variegated stranded silk (discontinued by the manufacturer)
Jewels = variegated perle silk (discontinued by the manufacturer)
Opals = variegated silk / wool blend (discontinued by the manufacturer)
To view the shade ranges on each of those, click on the links of the names, which will take you to the Gumnut Yarns website's color range pages. It seems all the variegated threads have been discontinued.
Anyway, back to the sale at Needle in a Haystack! Besides these magnificent grab bags, they've also got the remaining of their DMC Medici (discontinued by DMC) wool thread on sale for $.75 / skein, as well as the whole range of Danish Flower Thread on sale for $1.25 / skein. (The latter is listed on their sale page for $1.30 / skein, but if you visit the actual shopping page for Danish Flower Thread, you'll see it's $1.25).
So, some great deals there! I'm still sticking to my resolution (after last week's needlework shop hop loot!), so I won't be adding any of this to my stash! But if you have the opportunity to do a wee bit of stash building, then I figured you might as well know about the sale, too! Enjoy!