Coming up on Needle 'n Thread: a series of lessons on long and short stitch shading! May I tell you a bit about it?
Long and short stitch shading goes by many names in the embroidery arena, and the long and short stitch is a vital part of many embroidery techniques. Needle painting, thread painting, shading, silk shading…. crewel work, art silk embroidery… and on and on…
Despite what it's called, long and short stitch shading is a beautiful embroidery technique and it's worth learning. There's no better way in embroidery to fill a realistic-looking shape. And even if you're working a stylized design and you want to fill an area with shades of color, long and short stitch is the stitch to use for a smooth, gradual shaded fill.
It seems lots of stitchers are intimidated by long and short stitch. In a sense, there's good reason for that – it's usually considered a more "advanced" form of embroidery, and it's often seen in combination with "advanced" forms of embroidery (like goldwork).
Like any new skill, long and short stitch takes practice to get it, but once you start working with the technique, you'll find out a very important thing about it: it's a "forgiving" stitch, more so than many other embroidery stitches! It allows you to make corrections as you go.
The concept behind these lessons is to take you through the basics of long and short stitch. While the lessons are in stitch-a-long form, they are not focused on one finished design. (We'll save that for another time!)
Instead, I will be working through a series of 8 design elements, each fitting within a space of about 2″ (and the elements themselves are smaller than that!). Each element will be stitched in sequence, from basic long and short stitch filling in a box, to angled long and short stitch shading, to filling in a circle, then filling in a ribbon, then working on natural elements – from the stylized leaf, to the more realistic, to the small flower shape, to a "real" leaf, with a folded edge.
By stitching these eight elements, you will learn the anatomy of the stitching technique and its applications in basic forms. The lessons will help you get the hang of shading and will prepare you for further adventures with long and short stitch.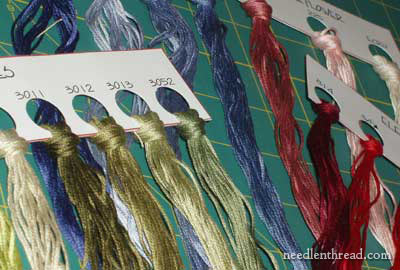 The lessons include materials list, design, picture tutorials, a couple videos, and, of course, text instructions (because you know I couldn't do this without incessant babbling!) The finished product, should you stitch the whole thing as I drew it, will be a small sampler of 8 elements, with a space to personalize it, leaving you with a good reference point for later work.
I've been working like a fiend on the lessons, and I'm planning to launch them soon. Look for them!