Continuing on my exploration of "trip loot" from my recent vacation, during which I stopped at four popular needlework shops, I thought I'd show you a couple kits I picked up at Nordic Needle. They're kits for Huck embroidery, also called Swedish Weaving or Huck Darning. I thought they were appropriate to buy at Nordic Needle (considering the "Nordic" angle), and surely, thought I, they would make Really Good Projects to work in the car!
Six thousand miles and almost three weeks later, I'll admit I never did open up these embroidery kits while I was in the car. In fact, I don't think I ever looked at them again until I unpacked everything (and that was just briefly)… but while reorganizing this morning and putting things in a "definite" place (you know how it is – from The Stack to the Definite Place?), I came across them again, and thought I'd show them to you.
The kits are for two towels, which is a typical (but not the only) application for Huck work.
Strangely enough, though the kits caught my attention at the time, now as I look at them, I find myself chuckling. Neither are in "my" colors! They aren't really typical of me at all.
Yet, still, I like the idea of them.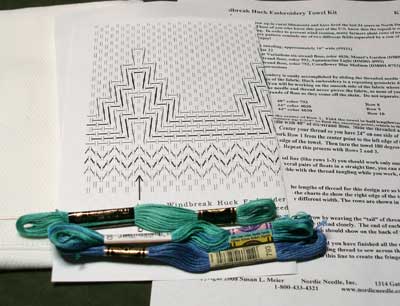 Huck embroidery is worked on a specific type of fabric, normally (at least for beginners, anyway!) by following a pattern like the one in the photo above. The lines of the design represent the floss, while the little vertical dashes speckling the pattern represent the fabric weave.
You can use specific fabric for Huck work called Huck fabric, or you can use Huck toweling (or huckaback). You can also get away with using aida cloth or monk's cloth for Huck embroidery, too. For the actually "weaving" of the design (running the needle under loops of the fabric, according to a pattern, to create stitches that look like darning stitching – hence, "Swedish Weaving" and "Huck Darning") you use a blunt tapestry needle. And almost any kind of regular cotton embroidery thread or floss can be used, including pearl cotton and stranded cotton.
Those are the tidbits of information I picked up about Huck embroidery in reading the backs of the kits at Nordic Needle. Other than that, I don't really know much about the technique, as I've never tried it!
I've relegated these kits to the Someday Pile – I'm interested in trying them, but not right now, as there's just too much on the plate at the moment!
Still, I thought they were interesting enough to show you the kits, and ask if anyone out there is a great fan of Huck work, and if so, can you tell us any other information about it? Are there links and resources available for this craft? How 'bout some photo pages and so forth?