The first needlework shop stop on my 6,200-mile-road trip was in Fargo, North Dakota, at Nordic Needle. Now, this is a shop I have always and forever wanted to go to! And since I was heading to Minnesota for a three days, I figured this would be a prime opportunity to visit Nordic Needle. This was the beginning of the Great Road Trip Plan that took me in a huge loop to the West Coast and back to Kansas. Really – I was just planning to add a couple hundred miles to the trip and jump up to Fargo! But Mom and Dad suddenly got the "bug" to travel, too, and so the three of us concocted this ever-changing journey that took us to some very interesting spots and some old haunts where my folks lived and raised their kids. So, without further ado, here's Nordic Needle and some other stuff…
We left Kansas on Thursday, June 18th and drove to Minnesota, where we stayed until Sunday morning, June 21st.
Minnesota is beautiful. The lakes that dot the state are especially enticing if you happen to be coming from the Kansas prairies, where water is not always abundant. One morning, we picnicked on the shore of a lake, in the company of a pair of ducks.
On Sunday, we headed north to Fargo, arriving in time to have dinner with some friends and put up for the evening. The next morning would be devoted to Nordic Needle. I didn't plan to spend a lot of time there – I didn't think it would be quite the thing to do to the Agéd P's – but a good hour, I thought, was reasonable.
Of course, it ended up being two hours.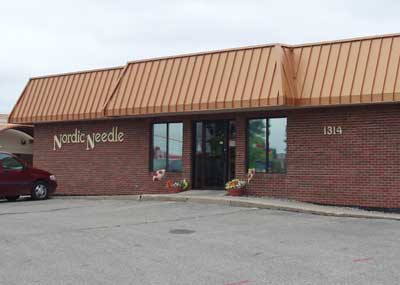 The outside of the shop is rather mundane, but hey – it serves its purpose!
Inside Nordic Needle, you will find practically everything a stitcher's heart can desire, to some degree or another. This is a wall of beads and accessories and little things…
One section of the store is devoted to these rotating book stands that are filled with everything from charts for counted work, to a delightful variety of books (including many books self-published by different designers, that can't be had through Amazon, etc.), to kits of all sorts, including several of Tanja Berlin's embroidery kits (among others).
Being "Nordic" Needle, there is a goodly amount of stock devoted to Nordic embroidery techniques, including Hardanger, huck embroidery and so forth.
And then, there are threads. Oh, are there ever threads! All kinds of threads! This particular section in the photo above is their Brazilian embroidery section of threads, but behind it, on the wall, is the whole line of Treenway Silks pearl and ribbon — among other threads.
You can imagine that in the midst of all these glorious goods, I was a bit unfocused at first. I just saw, but didn't really "attack" with any clear focus. My eyes went from one selection of goods to the next, without really honing in on my own particular interests.
I have seen huckwork in magazines and books, but have never tried it. Engrossed by the samples hanging on the walls, I took a look at some of their huckwork kits and decided they would be perfect for on-the-road needlework! So I bought a couple. I never touched them. I did not lift a needle (except when purchasing needles) once during the whole trip. *Sigh*
It's difficult to explain the quantity and variety of needlework goods available at Nordic Needle. The main floor of the shop is packed with aisles and shelves and displays filled with threads and tools and kits and designs, as well as display boxes, accessories, and anything you really could want, needlework-wise.
The threads are, of course, the most colorful things in the shop! Racks of them – everywhere! I would suppose that just about any type of thread you would want, you could get through Nordic Needle. Even if they don't regularly carry it, they can probably special order anything. While I saw a whole rack of Danish Flower Thread, for example, I didn't see any floche. But I bet, if you want floche, you could special order it from them. Of course, this doesn't mean they don't have floche – I may have just missed it.
They have a nice corner – much bigger than seen here – full of fabrics on bolts, and also cut fabrics. You can find linens, evenweaves of different types, and just about anything for regular embroidery in their fabric area. Anything they don't have, again, I am pretty sure they could special order!
Nordic Needle has a neat incentive for travelers, by the way. If you travel a distance to visit them, they take a certain percentage off your purchase. If you click the "How Far Will You Go" box on their home page, you can read about the incentive. The shop is less than 1,000 miles from me, so I received 10% off my purchase. BUT – I happened to be there on a Monday, and they have this "Monday Madness" thing they do, where you can draw for a discount on one item (or many – depending on what you draw). I lucked out – I was there on a Monday! – and got 50% off my most expensive item, which was one of Alison Cole's goldwork books.
All in all, by the time I left, I was a pretty happy camper!
Here's my review of the shop, in a nutshell:
Merchandise: Wow! They have a lot of great needlework merchandise. I would have loved to have seen more merchandise devoted to other surface embroidery techniques such as needle painting, crewel work, etc., or
even cutwork and other forms of whitework (in addition to Hardanger). They had Trish Burr's books in stock, and some kits of Tanja Berlin's (though not her needlepainting kits – blackwork and shadow-work, basically). They also had a bunch of nice Brazilian supplies. And I'm sure that they could order just about any kind of needlework-anything you might want, so I'm not too taken a-back by the lack of other surface techniques. They have as well a terrific selection of accessories – the best I've seen anywhere – for the needleworker, from all the convenient tools and accessories a sticher needs, to many unique and beautiful stitching-related items, tools, notions, and so forth.
Shop Layout: As needlework shops go, I'd call Nordic Needle "really big." It's crowded and a bit confusing. When it comes to finding something specific, such as a design or a kit, if you aren't used to the layout, you'll probably need help. Still, good use is made of the space they have, and once you get the general feel of the shop, it's easy enough to find your way around or just to enjoy browsing. Never-ending browsing!
Prices: They seemed fair and equivalent to other shops I've been to, or to merchandise I've found online. Nothing seemed outlandish, as far as prices are concerned. Prices were pretty much what I expected them to be. I picked up a couple little bargain bits in their "discount" room, too, which was nice…
Service: Well, this is difficult. It depends on what you want in service. The people were polite enough, though not overly friendly, and they kept their distance. If I needed something, though, I had but to ask, and they directed me politely to it. There was no real "warmth" in any communications, but they weren't rude, either. It was just business. In a sense, this is a good thing. It allows the customer to browse a shop without being hassled or conversed with the whole time so that it's hard to concentrate. I would imagine that, in a shop this size, that's probably what most shoppers would desire. And when it came to my needing anything, I had prompt attention. So in that sense, the service was good – not warm and over-friendly, but there was no curtness or rudeness (which I have, believe it or not, experienced in other needlework shops, and it's one of my pet peeves!)
Nordic Needle is definitely an A+ shop, obviously built through the hard work of the owners into a thorough supply warehouse for needleworkers all over the world. If you get the opportunity to visit the shop, you won't be disappointed, I don't think! If you don't have the opportunity to visit in person, you can always visit their website.
I finished up at the shop before 11:00 am (so, actually less than two hours!) and we struck out west from there, across North Dakota, heading towards Glacier National Park in Montana.
There are some parts of North Dakota that are really beautiful! We stopped for coffee at a friend's house in Mandan, which is located on the Missouri River. Their back deck offered us this incredible view – and it was a perfectly beautiful day to enjoy it!
The majority of North Dakota looked pretty much like this, until we got to the very western edge of the state. The "Badlands" of the Theodore Roosevelt National Park in western North Dakota are surprising, to say the least! At one moment, you're driving along through the rolling green hills typical of the photo above, and then you round a curve in the highway, and there you are in the midst of rocky canyons and scrubby landscapes.
We made it through North Dakota and on into Montana, where we turned north to take the "scenic" route to Glacier.
It was …. sort of scenic, I suppose. We spent Monday night in a small town along the way – Glasgow, Montana – and then Tuesday, we headed to Glacier National Park.
Glacier is incredibly beautiful! It is majestic and awesome – and difficult to describe! Unfortunately, we only got to see "part way in," as the road through the pass was still considered too precarious for car travel (avalanche warnings, and so forth). No, we didn't get out to hike it! Instead, we had lunch in beautiful surroundings, saw as much as the park as we could from the eastern and southern parts of it, via road, and then headed to Coeur d'Alene, Idaho, where we spent the rest of the afternoon and night before heading to Seattle, where I stopped in at Threadneedle Street.
But we'll save that for the next installment!