Do you work outside your home? I do. Between the middle of August and the end of May, my real job actually takes precedent over my needlework! (Can you believe I allow that??!) Now, this isn't just because the real job pays the bills – it's also because, if it is to be done well, the job demands it, and I love my job! I like teaching a lot, even though, yes, it does occasionally have its Moments. Needlework, during the school year, becomes my carrot – the thing that motivates me to do what I need to do, work-wise, so that I can enjoy relaxing with my needle and thread. And, as you avid stitchers know, needlework can also serve as a tremendous stress reliever!
But, when the work week is hectic, it's often difficult to find time to squeeze in a needlework project. Often, what ends up happening is that, because no progress is being made at all on the project, it gets side-lined, interest in it gradually wanes, it is finally stowed away, and… The End.
To avoid this, I started "forcing" myself (ok! right! it doesn't take that much force!) to fit in at least 15 minutes a day stitching. Whether those 15 minutes are snatched on a lunch break or between classes, whether they are found at the very end of the day before hitting the sack, or whether they are squeezed in first thing in the morning, before heading out to work (assuming I'm ahead of schedule!) – whatever the case may be, those 15 minutes serve three useful purposes: 1. they provide a momentary "break" doing something I really love; 2. they keep my projects going at least a wee bit and I feel as if I'm making progress; and 3. I don't have that overwhelming feeling of "needing to start," which can make me lose interest in a particular project and relegate it to the shelf.
That's the background of my 15-minute sessions. And here are some results from a few sessions last week.
On a few days, I only barely managed 15 minutes! Other days, I had more time in the evenings, and could make more progress than shown below. But for now, here are three 15 minute sessions that were snatched during the week:
I had two projects out this week – my Schwalm whitework project and this Long Dog Sampler. I started this sampler last spring. My niece wanted to work a counted cross stitch piece since they were covering the technique in home ec, and she really liked this Long Dog sampler called "Angel Pavement." So I purchased two copies, one for her, one for me, and we went thread and fabric shopping, and settled on working the sampler on 28 ct fabric over one thread. She's still plugging away on hers, though she works more sporadically all over the place on the chart than I do!
I haven't made any progress on this since I put it away last spring, but it's out again now, because it is perfect for 15 minute sessions.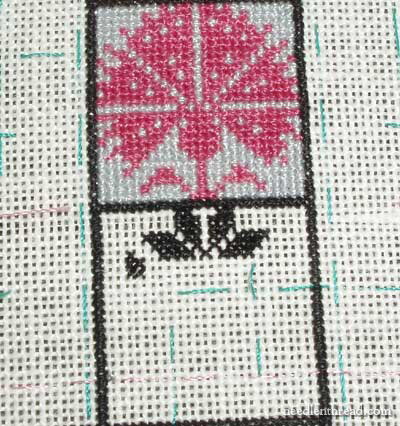 In the first 15 minute session, I didn't get very far at all! You would almost be tempted to say, "This is not progress!" But the way I see it is, any stitch is progress! During that first session, I had to dig for thread, cut it, strip it, and thread two needles (which was wishful thinking – I didn't even use one full-threaded needle).
In the next 15 minute session, I stuck the frame on my Needlework System 4 stand, rather than holding it, and I resorted to two-handed stitching, which is a lot faster than one-handed!
And, by the third 15 minute session, I was making good headway. When I ended the previous session, I threaded a new piece of floss and had it ready for beginning, and, with both hands stitching, it went fairly well.
Now, keep in mind this little piece is not quite an inch square – so, in the scheme of things, it doesn't look like much stitching! But really – it is progress! And, as I mentioned before, this really serves as a motivator! I find myself seeking the next 15 minutes, just to see how far I can get in the next session. And, better yet, I find myself getting other things done that I need to get done, with more efficiency, so that I can squeeze in 15 minutes.
Do you use needlework as a carrot? Do you try to carve out bits of your day that you can devote to it? How do you go about doing so? Does it help motivate you in your other daily tasks? I'd love to hear how you deal with limited time and needlework!