Kreinik is an embroidery thread company here in the US that's been around since the 1970's. It's a family run business that has become very well known in the embroidery world – I've never been in a needlework shop or the needlework section of a craft, sewing, or hobby store that didn't have some kind of Kreinik thread available for purchase. While they are probably best known for their different metallic cords and blending filaments (that's just a guess…), they also manufacture some beautiful threads. I want to show you three of their silks and tell you a little bit about them.
Silk Serica, Silk Bella, and Silk Mori by Kreinik are all 100% silk threads for hand embroidery. The first two threads – Silk Serica and Silk Bella – are filament silks, while Silk Mori is a spun silk.
The difference between filament and spun silk is found in the silk fibers that are used for manufacturing the thread, and how the threads are manufactured. Filament silk is spun straight off the cocoon in long lengths. It is a very high sheen thread and quite strong. Spun silk is made from the "left-overs" after the cocoon has been unraveled. The silk is spun much like wool or cotton, in small pieces that, through the spinning process, work into a long strand. Spun silk has a nice lustre to it – it is soft, and generally it is "stranded" – that is, it's put up in a certain number of strands per thread off the skein (like DMC or Anchor cotton, which are stranded cottons).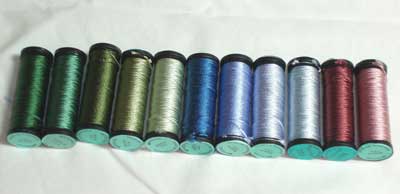 Silk Serica is a 3-ply filament silk. It works well on 18-ct canvas, for good coverage with tent stitch. It's also a beautiful thread for techniques such as Hardanger, where it makes very nice Kloster blocks.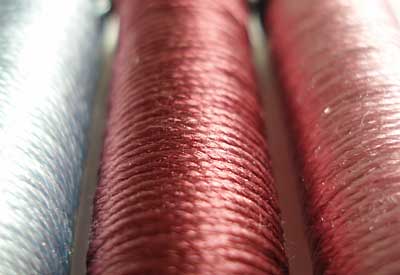 It can be used in any application in which you would use a silk buttonhole twist, but, from what I can see, the Serica is a looser twisted thread. Because it is looser, you can actually separate the plies (carefully), to use in satin stitching and so forth. When separated, the three ply thread becomes even more "shiny," and any waves that are the result of being twisted can be smoothed out by slightly dampening the thread.
Silk Serica comes in 142 colors that match Silk Mori.
Silk Bella (the second row of spools) is also a 3-ply filament silk, but it is much finer than Silk Serica. Unlike Silk Serica, it can't be separated into individual plies.
This fine thread is perfect for any application where tiny detailing is desired. It works well on high count fabrics for stitching over one thread, in counted work. It's great for blackwork, and can be used well in needle lace and pulled thread techniques.
Silk Bella comes in 46 colors.
This little picture is a sample given in the Kreinik brochure. The Kloster blocks (those are the heavier white stitching) are worked in Silk Serica. The woven bars and the tiny filler stitch in the center are worked in Silk Bella. The leaves on the outside are worked in Silk Mori.
Silk Mori (the pull skeins in the last row) is a typical stranded silk, used in the same applications you'd use stranded cotton. It's a six-strand spun silk, and, because it is silk, it has a higher lustre than cotton, and that lustre will last indefinitely. (Mercerized cotton tends to lose its sheen over the years…) Silk Mori comes in 142 colors, like Silk Serica.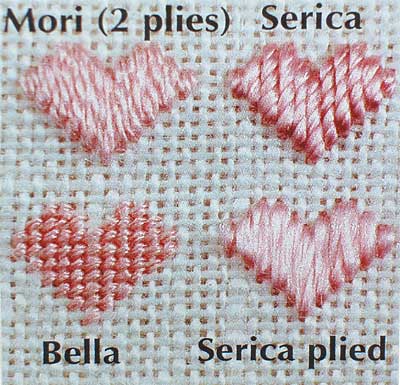 Another little sample here from the Kreinik brochure helps demonstrate the differences in these three silks.
The color selection for these silks is really nice, and I'm eager to stitch with them. I've stitched with Silk Mori, but haven't personally done any embroidery with the Silk Serica or the Silk Bella. I hope to soon! You can find color charts for these silks available on Kreinik's website.
To help you get a better idea of the threads, I'll write up a comparison between them and other similar threads, so you can see these threads in relation to more familiar needlework threads. In the meantime, though, if you're looking for some beautiful silks to try out, you might want to give these a look! I love the feel of them, and I think they're going to be very nice for stitching.
Have you used any of these Kreinik silks? Any tips? Any information? Let us know!