DMC and Coats are both well-known needlework thread producers, world-wide. I marvel at the variety of threads they produce for the various markets around the world. Jeanine up in Canada recently sent me a gift from Italy – two types of thread that are available on the Italian market, but not available here in the US. Check them out…
The threads are DMC Alsatian Twist (or Retors d'Alsace) and Coats Cucirini (Anchor's Italian branch) Ritorto Fiorentino. Both threads are similar to pearl cotton, but they are not the same as pearl cotton.
There are three hanks here – the two green hanks on the left are DMC Alsatian Twist and the white on the right is Coats Ritorto Fiorentino. I put the typical 6-stranded DMC floss next to the hanks, so that you could get a proper sense of the size of the Italian bundles.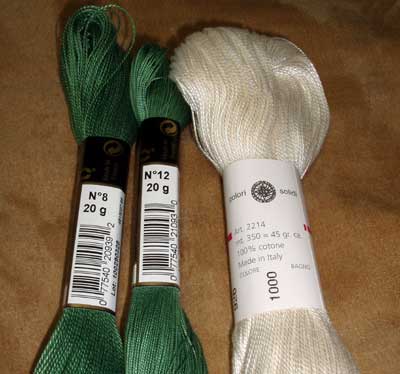 Both threads come in two sizes: 8 and 12. They are similar, as I said, to pearl cotton, though there is a difference in look and feel. The Alsatian Twist, for example, feels heavier and limper than pearl cotton, and it has more of a sheen.
Jeanine mentioned that the Alsatian Twist by DMC is a return to an old style of thread DMC stopped making at the turn of the century. They re-released the thread this past May in Italy, and they may release it to other markets as well, though there are no present plans to release it in North America. You can find references to Alsatian Twist in the old advertisements in needlework and pattern magazines from the turn of the last century, and especially in the Therese Dillmont books like this one, Motivi per Ricami (Embroidery Motifs) – a PDF hosted on the Digital Archives. Check out the advertisements in the back of that book (which is full of beautiful embroidery motifs, by the way), and you'll see this thread listed.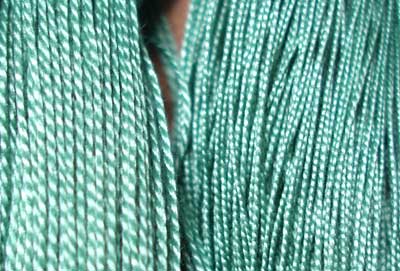 The Alsatian Twist is listed on DMC Italy's website, if you want to take a look at it. You can drop the URL in Google for a translation if you want. The thread comes in 77 colors in size 8 and 56 colors in size 12 – all in 20 gram hanks like these above. (They're… HUGE!)
The Coats Ritorto Fiorentino is produced exclusively for the Italian market. It comes in many colors as well, in 40 gram hanks (even HUGER!).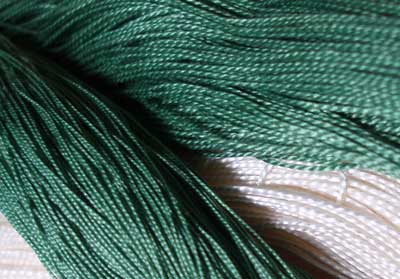 I had a resource to share with you here, but as of 2018 (this article was originally written in 2009), the resource is no longer available!
That's the way the cookie unfortunately crumbles (or perhaps the thread tangles?) in the small businesses in the needlework industry, I'm afraid.