Today is Thanksgiving Day here in the States – my favorite "secular" holiday of the year. Today, normally we enjoy family and friends, and… yes… turkey. The turkey is practically unavoidable. I thought I'd send along my Textile Turkey, to wish you all a Happy Thanksgiving!
This particular turkey is a combination of hand embroidery projects I've worked. You can find the Textile Turkey explained in-depth on this post that followed Thanksgiving Day last year, if you really want to find out more about it.
In the meantime, though – here's my Happy Thanksgiving card to you all!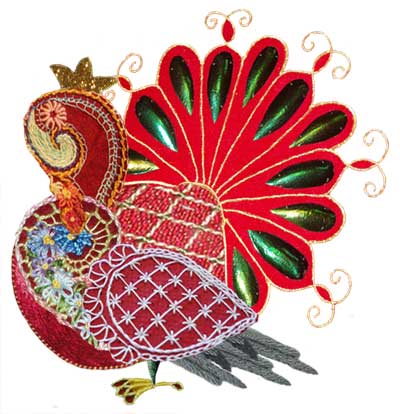 Wherever you are, even if you don't normally celebrate Thanksgiving, I hope you do have much to be thankful for in your life! For me, I'm super thankful for each of you – thank you for your constant inspiration, encouragement, and interest in hand embroidery and the needle arts!
Happy Thanksgiving! Enjoy the day!