I received a few e-mails asking me to say a little more about my turkey embroidery that I posted yesterday on Thanksgiving! I felt a little silly that I didn't cover the list of combined projects on that post – and in fact, I feel even sillier bringing up turkey when everyone's had their fill! But, still, here's the explanation:
The turkey is a combination of several embroidery projects. I opened the photos of those projects in Photoshop, and just played around with them, layering different elements, erasing parts, using layer masks, and so forth, until I came up with something vaguely resembling a turkey: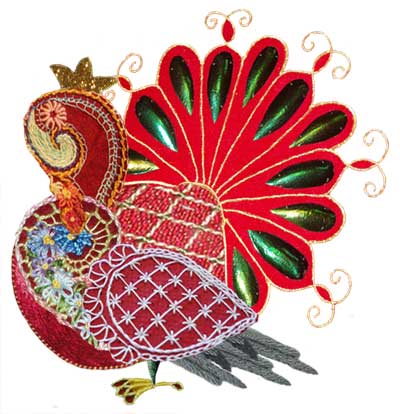 If you want to read about the projects, threads, and techniques involved in each element, you can look at each project page. Here's a list of the projects combined to make the turkey:
Goldwork and Beetle wings (tail)
GST Strawberry (body)
Christmas Chicken (large part of wing)
Red Poll (lower grey wing tips)
Golden Pomegranate (front breast and crown)
Felt Needlebook (head, breast, and foot)
Book cover (leg)
If you haven't seen those particular projects here on Needle 'n Thread, I hope you have fun perusing them! Some of them were quite an adventure.
On this day after Thanksgiving, I refuse to join the holiday shopping crush, despite the great deals that I'm sure must be abounding. Often, I think people shop on this day just to enjoy the challenge!
I'm planning on spending a relatively quiet day straightening up, organizing some upcoming projects, finishing some near-complete projects, and so forth. I know it all won't happen in one day… but it's nice to plan as if it will, anyway!
Enjoy your weekend!