I was going to say "finished." But then I remembered it's not finished. I did manage to finish the top of the goldwork and silk Christmas ornament yesterday – and with a sense of silly, premature exaltation, I convinced myself it was finished.
The fact of the matter is, no one would hang a Christmas ornament on a tree while it's still framed up for embroidery. In fact, I think we could safely say it isn't even a Christmas ornament yet.
I still have to assemble this piece into an ornament. That will involve stuffing and backing it (not really stuffing it, but there will be a layer or two of something in there that'll give it some fill), finishing around the edge with a cord (which I still have to make) and adding a tassel (which I still have to make) and something with which to hang it. All of this, I hope, can be accomplished in a couple hours.
Here's the whole front. Finishing off the gold passing was rather a pain. On future similar projects, I will certainly remember to couch the passing thread first before putting the pearl purl outline down. The gold passing couched with the gold (the innermost part of the border) ended up being fairly even all the way around, with the exception of one side, where I found I had to work one extra little bit of passing in to fill the space.
After I put the ornament together, I'll go over it really well with the mellore (a small silver tool used for prodding gold threads) to make sure all the threads are well situated.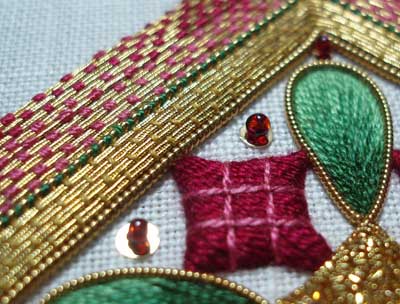 I used gold spangles and a red bead in the blank spaces on the inside of the design, to add a bit of sparkle and to fill up the interior space a little bit. I love the way the gold spangles gleam. They really catch the light, but it's hard to catch that on the camera.
The spanges on the ornament are actually two different sizes, though I don't think it's obvious from far away. To fit one up in the corner above the green shapes, I had to use the smallest ones I had (I think a size 18). The corner spangles, then, are pretty small. All the other spangles are a size 14.
I'm going to try to finish this up today, if all goes well. I was supposed to film video stitches today, but two things prevent me: a dark, dismal day (I need sunlight to get good results) and company for dinner tonight. But I should have an hour or so this afternoon that I can devote to the finish work on this project. It always makes me nervous when I cut the piece from the frame, so keep your fingers crossed that all goes well!
Enjoy your Saturday!