Last week, I mentioned the new needlebook kit in the series of French Maid Needlebook Kits from Access Commodities, and since it showed up in the mail, I figured I'd show you the insides of the kit.
Even though I'm not usually one for working things in a series – I'm just not a "collector" at heart – this particular needlebook series has really captured my fancy! These are the points that appeal to me about this series: the quality materials (Au Ver a Soie silks, Legacy Linen); the coordination of the needlework part of the kit (threads, fabric, stitching designs) with the reproduction fabric lining; the pretty finishing touches; and the fact that I can adapt the designs from counted work to surface embroidery if I want to.
Of course, if I don't get my you-know-what in gear and get the first needlebook done, I may end up with a stack of boxes on my shelf and no needlebooks to show for it! (More on that later!)
Here's the box the kit came in – you can see it's the third in this series, and it's produced by Access Commodities.
This is the cover design for the needlebook. The picture doesn't do it justice, really – the trim and finishing touches add so much to the needlebook! But still, you get the idea of the overall design of the book here as well as the color scheme.
In contemplating the design, I don't know if I could reasonably adapt the bird to surface work on this fabric. I'll have to think about that one a bit.
I love the creams, browns, and cranberry color scheme here! The silk threads are perfectly coordinated with the lining fabric. Very pretty!
This particular kit has four skeins of Soie d'Alger, one spool of Soie Perlee, ribbons and so forth for the finishing, as well as covered button hardware, lining fabric, Legacy linen for the outside fabric, interfacing for the construction of the book, felt for the needles (and three needles), and all the instructions.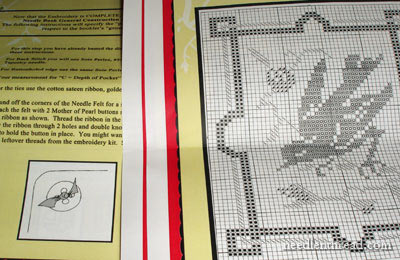 It has a very clear chart for the back cover of the needlebook, too. The initial is again something you have to come up with, but there are plenty of online resources for these cross stitch initials, where you can find them for free. Well – you know me – I'll switch that to an embroidered monogram, anyway.
I purchased this kit (it's my own Christmas present – you know, any excuse!) from the Mad Samplar. It came very quickly, but at the time, they had it in stock. Now, I see it's a special order item, but I suspect that they can get it pretty quickly, if you're interested in the kit, too.
Now, what of the needlebook kit I'm supposed to have finished for Christmas? Um….
When is Christmas?