Tucked in the northeastern corner of the Mediterranean Sea, south of Turkey, is the island of Cyprus, and in Cyprus is a town called Lefkara, which gives its name to a regional "lace" called Lefkara Lace. Lefkara Lace is a combination of drawn thread, whitework, and needlelace techniques. I was fortunate to receive some beautiful pictures of Lefkara lace from a reader in Lebanon who hopped over to Cyprus for a short while, so I thought I'd share some of the photos with you!
This is a beautifully worked open motif on a piece of Lefkara lace, and the shot also shows off the lacy edges.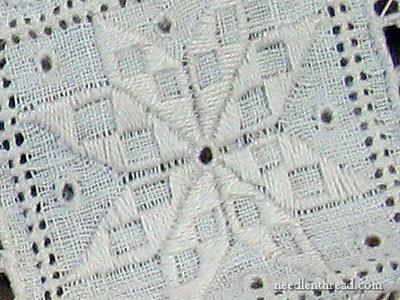 Alternating with open spaces, it is usual to find areas that are stitched with geometric designs like this one.
And here you can see the whole cloth, with alternating squares of openwork and filled embroidery squares.
I'll be writing a little more about Lefkara lace and sharing some more photos with you soon. In the meantime, I thought you'd enjoy the preview!
I hope you have a great weekend! Look for me on Monday!