There are some things in the World of Stitched Stuff that deserve to sparkle. The snowflake. The dragonfly's wing. The treasure under the sea. And to get these things to sparkle, we can resort to all kinds of threads on the market – specialty threads abound today! Blending filament is one way to achieve sparkles in your embroidery, but … alas … most blending filaments are simply a pain to work with. They snap, they stretch, they shred. Well, the answer is simple – if you want sparklies, you should Accentuate!
Accentuate is the answer to the more difficult blending filaments on the market. It's a fine 30 weight twist of thread made of 70% Polyamide / 30% Metallic Polyester, and it used to be called Madeira Supertwist.
The thread is a colored, semi-transparent thread accentuated with sparkles.
It comes in over 140 colors, so it can be fairly easily matched up with most color schemes in an embroidery project that requires a bit of shimmer and sparkle.
How about a snow scene with pale blues and silvers accentuating the falling and drifting snow? Or maybe a tropical ocean with blues and greens shimmering under the waves?
You can use Accentuate straight off the spool and combine it with other thread that you're stitching with. You can also use it by itself, using several strands to whatever thickness you need in your stitching. When used alone, it has a transparent look to it, making it perfect for lighted windows and doors, for stars, for snowflakes, for anywhere you want a light sparkly cover in your stitching.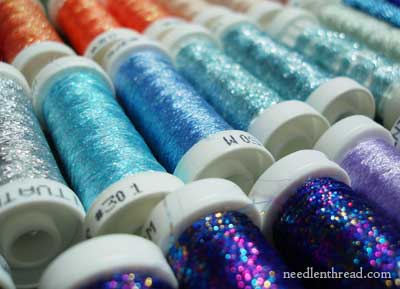 Accentuate is most commonly used in cross stitch and needlepoint, but it can also be used in surface embroidery. In surface embroidery, it works best when combined with other threads. Here's a good tip on using Accentuate: take one strand and pair it up with two strands of Soie d'Alger silk. Run the three strands together between your fingers and then thread them into the needle. This helps bond the threads and keeps the Accentuate from slipping around. Also, you can pair it up with two strands of Soie de Paris for a subtle and light look on needlepoint canvases.
I like using Accentuate in embroidery on paper. It looks great on cards!
You can find Accentuate in any local needlework shop that carries goods from Access Commodities. If they don't carry it, you can probably ask to special order it. Many online needlework shops carry the whole range of Accentuate. At Needle in a Haystack in Alameda, California, you find most of the range of Accentuate, and on their website, you can see all the individual glorious colors it comes in!
Have you used Accentuate? What are your experiences with it? When you see the threads, what kinds of projects or designs come to your mind? Any ideas for uses for the thread? Leave a comment below and let us know your thoughts!!