Today, I'm going to show you a fun and convenient way to organize your threads for your embroidery projects – Thread Drops! Have you seen these? Well, now's your chance to see them! I'll show you how they work, and I'll tell you what I like about them.
Thread Drops come in three styles, all three of which are shown above.
The original Thread Drop is shaped like a drop (hence the name). It's a drop-shaped thick card with a large hole punched in the middle, ample enough to hold your prepared skein of regular floss or even a larger hank of crewel wool. On the card, there's plenty of room to write the thread type and color number. In the original Thread Drop package, there are 40 drops, bound in two groups of twenty on two metal rings.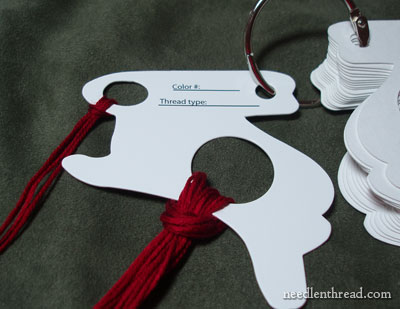 The second style is the Hop Hop Thread Drop – a bunny shaped thread drop, with two holes, one large and one smaller. The smaller hole accommodates threads that have been removed from the main skein. The Hop Hop thread drops come in packs of 20, all bound on a metal ring. On the card is a space for writing the thread type and color number.
The third style of thread drops is the Flip Flop Thread Drop. It's shaped like the sole of a flip-flop, with two smaller holes, one for threads from the larger skein, and one that's perfect for threads you've already stripped from the rest of the floss, or for leftover long threads that can still be used. Like the bunnies, the flip-flops come in a package of 20, bound together on a metal ring, and with space on the flip-flop for writing thread information.
What I like about them: they're a great way to set up lots of floss colors for larger projects, to keep them all bundled on convenient rings, and with a place to write thread info. I like all three styles, and I think the bunnies are really cute. I'm partial to the idea of the extra hole, because I always have stray single strands of floss that I don't want to lose track of. Keeping the single strands out of the orts pile saves on thread, so it's nice to have a place to hook up the single bits with the main skein.
The only disadvantage I see of thread drops is that once you've written on them, you've limited their use, unless you go a couple different routes: 1. use a pencil that erases easily; 2 you could use a removable sticker for your thread info, and peal off the sticker once the project is over (that's the route I would go, if I were going to use the thread drops for multiple projects; 3. you could use permanent stickers that cover the previous-written color info. So the writing dilemma can actually be easily solved.
I'm all for any method of thread organization that works, that's for sure, and I really like the idea of these thread drops!
You can find thread drops at your local needlework store. If they don't have them in stock, ask for them. Maybe they'll start carrying them regularly – but at least they could special order them for you if you want them!