A name like Lizardine can't help but provoke a question mark! Lizardine? Scaly? Lizardy? Reptile-ish? Lizardine is actually a beautiful real metal thread used in goldwork. I'd like to give you a little preview of what it is, and then go into further detail later by comparing to another more familiar real metal thread, pearl purl.
This is Lizardine, but not in its "natural" state. Lizardine, like pearl purl, is essentially a coiled flat metal wire, and when you stretch it, it looks like a spring, but it doesn't spring back. In the photo above, I'm working on the Floral Glove project, which requires the Lizardine to be stretched and wound with several strands of Soie de Paris. This is a great way to make a beautiful edge on your goldwork and silk projects. You've seen it before here on Needle 'n Thread, with pearl purl: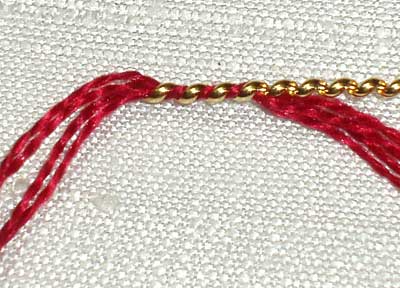 The photo above comes from the little tutorial on using pearl purl this way. The first time I ever used the technique was when I worked Margaret Cobleigh's "Golden Pomegranate" featured in Inspirations Magazine. I fell in love with the technique – it makes such a pretty edge!
The same technique works with Lizardine, but the look produced is somewhat different because of the nature of the metal thread.
On the Floral Glove project, the roundels are worked in both pearl purl (couched plain) and Lizardine wound with silk.
I have to admit, I'm a sucker for this type of metal thread!
There's just something about gold… and silk…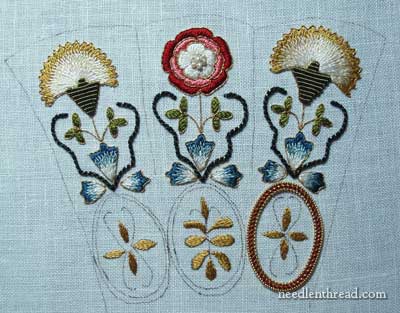 Do you know what I mean?