Wow! What a bunch of great input from Monday's post on Needlework on the Road! Thank you so much for your comments, suggestions, advice, and so forth! I narrowed down my "Road Tripping Stitching Kit" based on a couple common denominators, which I'll talk about here. I'll also show you what I decided on…
Yep, the decision came down to embroidery on felt. It seemed that, aside from the many who get car sick and don't stitch on the road, the following points are pretty universally agreed upon when it comes to stitching while traveling:
1. Don't stitch and drive! (I'll try to refrain!)
2. Take something that doesn't require frames or lots of extras, like charts and so forth.
3. Take something that requires simple stitching rather than complicated.
4. Take something that doesn't require perfect lighting.
So with those main points in mind, I set about deciding what I would take, and it boiled down to a felt project. Embroidery on felt – at least the kind I do – is generally simple: no frames or hoops, no charts, small and able to be worked in-hand, simple stitches, and bold rather than fine stitching.
I cut a few pieces of felt 5″ x 9″ – a good size for a three-fold piece, where the final fold works as a flap.
I lopped off the corners on one of the short sides.
This can fold up into a little pouch. I'll stitch the outside of the pouch and then line the inside, sew the sides up, and put a button on it.
I also cut out some squares of 3 mm felt, which is pretty thick. I have an idea for these, and maybe the Road Trip will see the idea part way realized if I can do some stitching on them. They're small and stiff.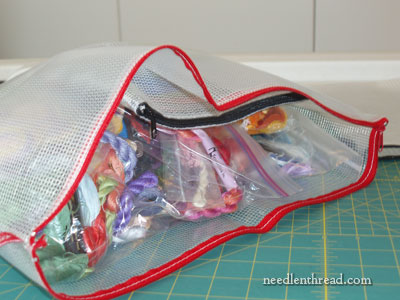 After cutting out the felt, I sorted through threads. Pressed for time, I couldn't sit there and color match everything and plan out what I wanted to use. Besides, I like "random" stitching on felt. So I ended up packing too many threads into a zipper mesh bag, along with the felt pieces, needles, and a pair of scissors.
And there's my Road Tripping Stitching Kit! I'll let you know if I use it!