Over the next few weeks, Needle 'n Thread is going to be on "auto drive" – but never fear, there's a whole line-up of interesting articles on needlework-related topics coming up!
Why "auto drive" for the website? Because I'll be driving somewhere else! You see, it's that Highly Anticipated Time of the Year – Vacation Time! This year, it's another adventurous Road Trip. This year's trip promises to be entertaining, enlightening, informative, inspirational – but somehow, "relaxing" doesn't come to mind! In record time (in the manner in which my family always operates while on vacation!), we will take in Minnesota, Wisconsin, Michigan, Niagara Falls, Toronto, Montreal, Quebec City and Surrounds, New Brunswick, Nova Scotia, Prince Edward Island, the coast of Maine, Boston and surrounds, Providence, Vermont, up state New York, Pennsylvania, Delaware, Ohio, Michigan (again!), and then… whew…. back home. Though driving, we will still meet airline schedules, work schedules, ferry schedules, dinner schedules, and on and on and on.
Somewhere in the 6,000+ miles that we will drive, I'll be ferreting out needlework related stops (when I can finagle them!) and I'll still be keeping up with the behind-the-scenes work on the website, like moderating comments. I've slotted in a few days where I'll be able to give you trip updates, too, assuming I discover things of interest to the needlework world!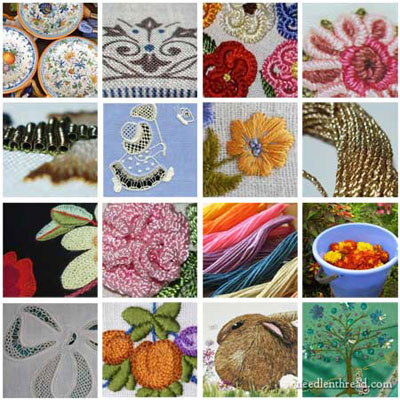 While I'm on the road, you'll be treated to some guest posts on Needle 'n Thread. What have I got lined up for you? Well…. there's a four-part series on designing and stitching elements inspired by Italian pottery, a two-part series on dyeing threads using natural dyes, some Italian drawn thread work, a bit on making Princess Lace, a spunky blurb on embroidered trees, some bits on Brazilian embroidery, a look at canvas work and specialty stitches therein, an article on book publishing for those who have dreamed of publishing their own books but don't know how to go about it, there are several book reviews lined up, some "stash" posts from my recent studio clean up, my fingers are presently crossed for a post on embroidered miniatures, and … other stuff! I hope you'll be thoroughly entertained!
Because I'll have limited access to the internet (and because I'll be doing other things!), e-mail response time will probably be rather slow. I'll try to do what I can if you happen to contact me, but if I don't reply to you right away, it's not because I don't want to – it's because I'm not able to!
And if you're good while I'm gone, I'll bring you back a treat – I promise! See you soon!