Even though I'm officially back from vacation, I still have two more guest posts on needlework that I want to share with you. Both are really good – and they touch on needlework topics that I don't often visit. This first one is by Patricia Richards, who operates Patricia Richards Miniatures, a website devoted to hand made dollhouse miniatures, as well as kits for miniature pillows. Patricia stitches incredibly tiny miniature items in unbelievable detail! She enticed me with the topic of her miniature embroidery projects by sending me a picture of her reproduction 17th century embroidered casket, which you can see in the article below. The casket is beautiful – full-size, it would be amazing in itself. When I realized the piece was about an inch wide, it took me a while to pick up my jaw! I hope you enjoy the article and are just as amazed as I am at the micro-stitched art!
How small can you go? That would depend on a couple of factors: How good are your eyes? And can you find materials fine enough to work with?
As far back as I can remember, I've always sewn and crafted, but after the gift of a dollhouse kit, I started working in 1/12 scale (that is 1" equals 1'), the scale most prevalent for dollhouses. In 2007 I was fortunate enough to find myself in a class taught by Annelle Ferguson in which we were to recreate, in 1/12 scale, a 17th century English Casket. We were each given a plain wooden casket, (made by artisan Mark Murphy), complete with 7 tiny functioning drawers and a lift-out tray beneath the lid. Annelle then guided us through the process of drafting patterns for each surface to be covered. To approximate the look of the full size caskets, it was necessary to work very fine, for us that was 72 stitches to the inch on silk gauze. Silk gauze is available in counts as high as 120 stitches to the inch, but it gets increasingly harder to find thread to stitch so fine. And it is increasingly harder to see.
Replica of a 17th century casket, worked on 72 ct gauze. It measures
1-1/8″ tall and 1-1/8″ wide.
To stitch on the 72 count, I found it necessary to use 5X magnifiers, the strongest I could find, that clipped onto my glasses. There are quite a few different styles of magnifiers, each available in a number of different strengths, to aid stitchers, and the best advice I could give would be to try a few and see what works for you and your project.
Once you can see to do the stitching, the issue of threads comes into play. On 72 count gauze, you need to work with a thread like a 100 weight silk, or its equivalent. YLI makes 100 weight silk thread in 64 colors, which sounds pretty good, until you start trying to match them to the vision in your head, it is not enough. Some stitchers use other weights and split the plies, but that is a little tricky and I didn't enjoy it. My solution, was Pipers Silk floss, with more than 200 colors, I was in stitcher's heaven.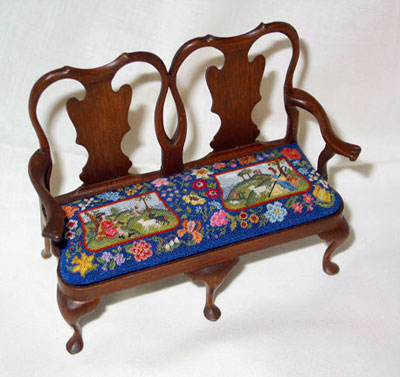 1/12 scale miniature settee, this is done on 58 ct silk gauze. Settee made by Dick Hardy.
The next year, I was again in a stitching class with Annelle. This time we were working the cover for a settee seat. For this project we were encouraged to work on 58 count gauze. When working on pieces that will be seen in a room setting, you need to work in different scales so that in the overall view, proportions will appear to be 'correct'. The largest scale pieces should be the biggest pieces-like a carpet. As you work smaller pieces, the scale should also get smaller, saving the finest scale for the smallest pieces, like the casket. If all were worked in the same scale the rug would appear to be much finer than the accessories and the accessories could come off looking clumsy in comparison.
Another issue you may notice when you begin stitching in a smaller scale, is that colors don't always 'read' the same. Color combinations which look perfect in your hand, don't look the same when stitched in these tiny areas and you may find you need to rework portions of your design to compensate for that, sometimes more than once.
Miniature shoes, approximately 1″ in length, the three in needlepoint were worked on 58 ct. gauze.
This week, I found myself with an enforced break in my current project and looking through my bookshelf, I found a photo of a bucolic 18th century needlework scene that I decided would make an excellent miniature project. Through the process of enlarging and tracing the picture to create a chart, I was again revisiting a sight issue; this time the necessity of letting your eyes and brain, fill in the details. Even though you are working in quite a fine scale, you will never be able to fit in all the detail you know is there. At the very least, facial details are impossible to work convincingly. If you can manage a dot for an eye, it will usually appear clumsily so it is quite acceptable to leave those details out. It will still 'read' as a human figure, or a sheep or a dog, without eyes, nose and mouth.
Working dollhouse scale miniatures on silk gauze has been an interesting and rewarding experience. If you have the yen, silk gauze is available from several sources on line. The classes I took from Annelle Ferguson were held under the aegis of the International Guild of Miniature Artisans at the Guild School held in Castine, Maine each June. The Guild is a wonderfully supportive organization that provides a number of learning experiences around the country. Another support system is the Petitpointers chat group on Yahoo where tips and work in progress is shared daily.
See what I mean by jaw-dropping?!
Ok, who's up for some miniature embroidery? This really appeals to me! I'd love to make tiny cushions and even some of the little wallhangings that are shown on MicroStitchery. These miniature Cluny tapestries are calling my name!
Update, 2018: While MicroStitchery is still online, they are no longer honoring orders. I have heard from many folks who have placed orders with them, but have never received the orders and had to apply to PayPal for a refund. I've tried to contact Joy, the lady who took over the business, but with no luck. Just a word of caution, for those looking for miniature tapestries!
Patricia has two shows coming up. One is in September, in New Jersey at the International Guild of Miniature Artisans and the other is in November with Philadelphia Miniaturia, at their premier dollhouse miniature show. If you live in either area, you might want to check out the shows!
If you're hankering to try something itty bitty in the way of embroidery, or if you want to outfit a fine miniature house, drop by Patricia's website.
And, finally, if you have any resources for miniature embroidery supplies or if you want to leave a comment or ask any questions, please don't hesitate using the comment form below!