After returning from vacation, it's awfully hard to get back into the swing of things, and my needlework has been suffering because of my relative lethargy when it comes to picking up handwork! Admittedly, I'm in a bit of a slump!
So, how does one crawl out of a needlework slump? I'll tell you what I do, and then you can give me your advice on how you get out of similar slumpy situations!
There are two things I do to work myself out of a needlework slump: First, I evaluate. Then, I anticipate.
To evaluate, I take a good look at my current situation. There are really only two projects that I was concentrating on with any intensity before vacation – the Floral Glove Project from Thistle Threads and the Blackwork Fish.
This is the last photo I took of the Floral Glove project, while trying out my new camera (which I've since gotten used to and love!) In evaluating the project and where it stands, I figure I don't have a lot left on the embroidery, but I do have the whole finishing process to go through. While on vacation, I noticed that Thistle Threads sent out an addendum on the finishing, to clear up some problems with the embroidery design being a bit off compared to the components of the finishing kit. I didn't read that in depth, but I know that before I launch into finish work, I've got to figure things out. And that's always daunting. So I've decided that the glove is going on hold for a little while.
This is the last shot I took of the fish. He's not getting very far, either, but the work that is left on him is relatively easy. I'm considering making a few changes on him, too, by adding another type of thread – Bijoux, which is a viscose thread wound with a gold metallic. I'm not sure yet where I'll fit that in, but the idea intrigues me. We'll see about that.
So the first step in getting back into the swing of needlework was to evaluate where my current projects stand. Fortunately, they are both still very "enticing" to me (I have not lost interest in either of them!), but I am leaning towards the fish for the first finish, rather than the glove. I'm following the path of least resistance here!
The "anticipation" part of working my way out of a slump is really the easy part! How many needlework addicts in the world don't anticipate new projects? Probably not too many!
Right now, I have two immediate projects that I need to address within the next month. They are projects that require setting up, stitching, and finishing, and while the stitching part excites me, it's the decision-making and the initial set-up that's holding me back. I'm making two embroidered palls, a lot like this one and this one.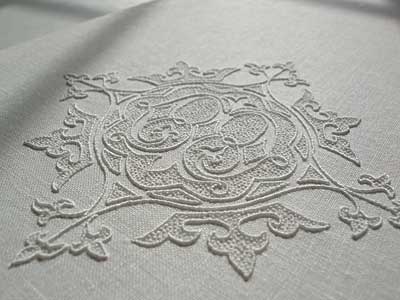 Of the two, the one above is my favorite, but I don't want to work the same design. I'm thinking about doing a Celtic cross on one, like the pattern below, only I'd take out those knotted "dots" in the pattern and eliminate the outside circle so that the cross design is a bit more pronounced.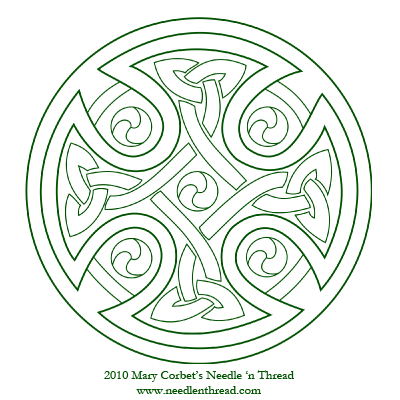 I haven't decided on the design for the other one!
Another project that I'm anticipating is the lilac-breasted roller by Trish Burr: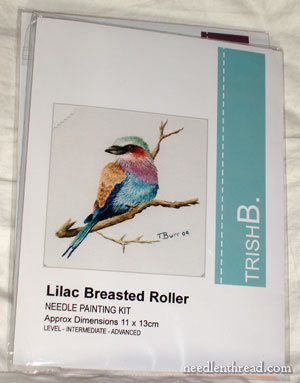 I've been wanting to get to this kit for a long time!
I also have plans to do some miniature embroidery, after being enchanted by Patricia Richards's miniatures. I'm convinced that these tiny exquisite pieces – whether tapestry designs, pillows, footstool covers, or whatnot – can be used as needlebook covers or even framed for display. (They'd be a great conversation piece!) They would also make superb Christmas ornaments. So I am excitedly looking forward to trying out some miniature work.
And there are a lot of other things I'm anticipating in the Needlework World right now, that don't have to do directly with stitching! Now that my studio is clean and tidy, I'm setting up the filming studio to record stitches, which I'll be doing all next week. I'll be recording them in high definition on a new camera so that they will be much clearer than the older stitch videos on the site. I'm very excited about that. I'm also working on some website alterations again, and hopefully, by the end of September, you will see another new section added to Needle 'n Thread.
For me, Anticipation always works me out of a slump better than Evaluation does. Evaluation, though necessary, tends to create obstacles, while Anticipation makes all obstacles seem easily surmountable!
Well, wish me luck on my present state of determination to get things done! What do you do to get yourself out of a needlework slump? How do you motivate yourself to move forward? I'd love to hear your take on the subject!