A couple months ago, I worked up a tiny Assisi Embroidery motif, so that I could demonstrated what a "voided" area looks like in embroidery. I picked a bunny for the voided subject in a little medallion, just because I like bunnies.
I thought I'd show you the little fellow, which is stitched in tiny cross stitch that covers the background completely. Often, in Assisi work, the cross stitched area is not quite so compactly filled, so that more of a lacy look is achieved. But with this piece, I'm stitching on 25 count fabric, over one, with one thread of stranded cotton, which pretty much fills the background pretty solidly.
The colors, I suppose, aren't exactly "traditional" in Assisi work!
I like the look of traditional Assisi embroidery, but I don't know if I'd ever devote stitching time to a whole piece of it. Still, I think it's neat. I like the combination of voided areas and blackwork lacy edges.
This piece is pretty tiny.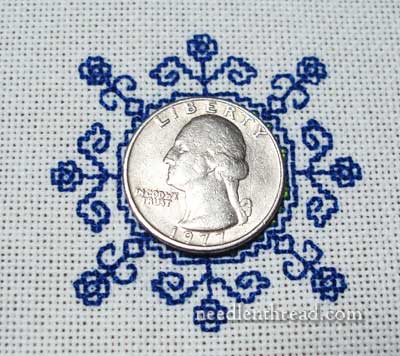 In fact, that works better.
Like I said, I probably wouldn't ever embroidery a whole huge piece of Assisi work – like a tablecloth or anything of that nature (though never say never). This tiny guy was enough to demonstrate "voided" areas in counted thread embroidery.
One of my favorite books on Assisi embroidery is called Assisi Embroidery: Old Italian Cross-Stitch Designs by Eva Maria Leszner.
The book has a nice readable approach to the history behind the technique, a simple section on instruction, and a very digestible text.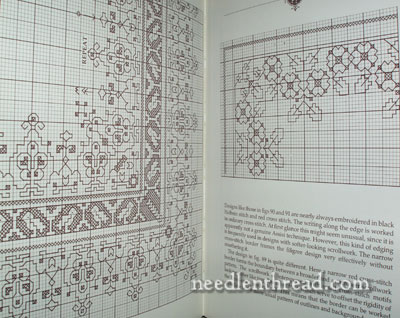 But what I like best about it is that it's full of very pretty patterns. So if I ever really did get the bug to work up a whole tablecloth in Assisi embroidery, I'd definitely refer to this book for a nice pattern.
If you like Assisi embroidery and you're looking for a good resource, Assisi Embroidery: Old Italian Cross-Stitch Designs is out of print, but you can pick it up for a pretty low price through various online used books sources, like Alibris or ABE Books.
Another excellent resource is Assisi Embroidery by Jos Hedrix. It's a compilation of patterns and a great resource for those looking for authentic Assisi embroidery plates. You can find this one in print, and it's available on my Amazon page here.
Another bug has finally bitten, by the way. I knew this would happen! I just must start a new surface embroidery project that is complete in itself – something not akin to samplers, something employing silk and gold. *sigh* So I've cleaned up an old Therese Dillmont design, turned it into a pattern, and will be setting up a new project this weekend. I know, I know!!! I can hear you good souls bellowing, "The Floral Glove, The Spot Sampler, The…." but you see how it is. There comes a time when we must just do something we're yearning to do! And I'm yearning! I'm yearning!
I'll keep the spot sampler series going because, of course, we must finish what we start (uh…. well, that's what my Mom always said, anyway) but for those who aren't into spot samplers, maybe this other piece will tickle your fancy! The next sampler installment is up tomorrow, and then for the weekend – well… one never knows!