This is where I'll collect all the posts on developing an embroidered spot sampler, so that you have easy access to each post, and so that they can be viewed in order. You'll find a link to this post (the index for the spot sampler project) under Tips & Techniques, too. If you haven't visited my Tips & Techniques page, you might want to check it out. That's where I list articles on Needle 'n Thread that either teach a specific technique, or that index various series of articles on a whole project.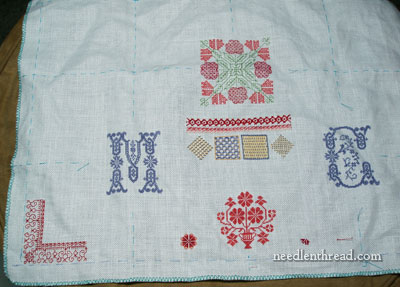 Posts in the Developing a Spot Sampler Series
Designs for the Spot Sampler: These are pages that have different collections of designs that I'm using on my spot sampler. They're available for you to use for free, if you want to add them to yours.
Further resources & posts that are related to the Spot Sampler:
If you'd like to post pictures of your projects as they progress, you're welcome to post photos in the Needle 'n Thread Group on Flickr, or to include a link to your own website, blog, or photo-sharing site in the comments section. I don't check in on Flickr as much as I would like, so if you do post something, feel free to leave a comment to let us know!
For questions, comments, and suggestions on spot sampler development, feel free to use the comment forms on any of the spot sampler posts or to drop me an e-mail!