Still working with counted stitches on the spot sampler, the next step that I took on mine (and that my students took in the Needle Arts class) was to add a Quaker motif to the sampler. In class, along with the Quaker motif came a lot of history on samplers, the Quaker samplers, the various school girl samplers, and so forth, to fill in some background information on samplers for my students.
If you don't prefer to add a Quaker design to yours, you don't have to! But if you're following along on developing a spot sampler and want to follow the same steps we took, then the Quaker motif is the next thing to add to your sampler, and to that end, here are some motifs for you.
As to the placement of a Quaker motif on your sampler, you can center it somewhere, or you can do what the student did in the photo above. Basically, she just "plopped" it anywhere on her sampler. While we gridded off the sampler fabric to give some general notion of an organized layout, many of the students seem to want a more organic, loose development to their samplers, and that is just fine!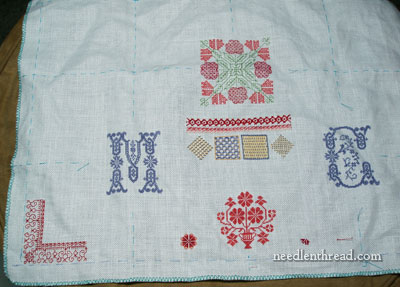 On mine, I put it in the center at the base of the sampler.
I gave my students a chart of eight Quaker motifs, allowing them to choose whichever they preferred. For the most part, they worked the Quaker motif in monochrome (one thread color). The motif is stitched over one thread of fabric, using one strand of floss.
If you'd like to add a Quaker motif to your sampler, you're welcome to use the following chart and pick one of the eight provided here, or you can squiz around online or through books and find a motif you'd like better.
Here's the chart of eight Quaker motifs, in PDF form:
Quaker Motifs (Update: Much lower resolution version that prints in two pages without having to reduce the size…)
It prints on two pages, and the shaded area is the overlap.
If you want to follow along with Developing a Spot Sampler, you'll find a convenient Index for this series under Tips & Techniques.
Also, for those you interested in keeping a stitch journal, the page that I posted a while ago is available.
Next up in the spot sampler series is adding a touch of blackwork. Then we move on to other stitches that can be used in counted work: herringbone (and several variations and decorations), then various filling patterns. This will bring us to the end of counting, and we'll be launching into free-style surface embroidery stitches.
Have a terrific weekend!