When it comes to embroidery hoops, there are hoops, and then there are Hoops. Ideally, wooden embroidery hoops are made of smoooooooothly finished wood, and have good, strong metal hardware on them. The screw that tightens the hoop hardware normally has a slit in it, so that a screwdriver can be used for tightening the hoop further than the fingers can manage.
There aren't a whole lot of Really Good wooden embroidery hoops available in the world today, but there are some. Hardwicke Manor hoops are a favorite of mine. If you've been reading Needle 'n Thread for a while, this probably doesn't surprise you, as I've covered the subject several times! Today, my purpose isn't to be redundant. Sure, we've talked about embroidery hoops before. We've discussed what makes a good embroidery hoop, and we've talked about binding embroidery hoops. I've told you why I bind my hoops, and I've even shown you how to bind your own embroidery hoop if you want to.
So, why more hoop talk?
The thing is, I rarely bind both rings on an embroidery hoop. It's usually just the inside ring that gets my attention. Once the inside ring is bound, the added stable tension on the fabric is divine! No more re-tightening, no more tugging on fabric. Once it's in, it's in, and it makes for very nice, taut fabric without much fuss. Not only that, the binding lasts – oh – for eons. I bound one hoop that I use regularly about 7 years ago. And it is still bound. So it's worth the work.
But about a week or so ago, I was using a small wooden hoop that's not quite the same quality as Hardwicke Manor embroidery hoops. It's an "ok" hoop, but it isn't grand. The wood is "smooth enough" – but not polished smooth; the hardware tightens, but… it bends a bit. You may well wonder why this particular hoop? It is only about 3″ in diameter on the inside of the rings, and it fits really well over a lot of the motifs I've been adding to my spot sampler. It's just such a Nice Fit. It's such a wee hoop. It's so darned…. cute. I wanted to use it!
So I set about binding the inside ring, and that was all well and jolly. But then, as I was working on the sampler, I placed the hoop just where it closed over some previous stitching, without expecting any problem.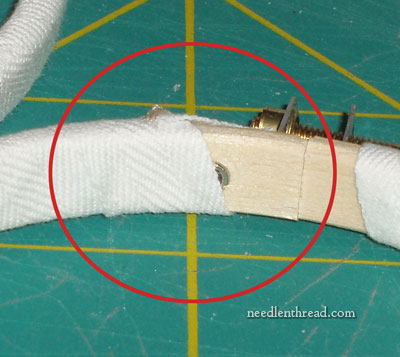 The culprit is there. Just under the binding on the outside ring, you can see part of it peeking out, because I moved the twill tape just to show you! (I bound the hoop before taking the photo – what a doorknob!) On good hoops, this part of the hardware that attaches the tightening mechanism on the outside of the outside ring is usually sunk into the wood somewhat. On this hoop, it isn't. And oh, what damage those little metal bits can do!
I realized too late, but I didn't want to vanquish the itty bitty hoop to obscurity!
So I bound the outside of the hoop, too. Binding the outside is a little trickier than binding the inside ring, because you've got that split to deal with. I simply stitched the twill tape together on the outside of the ring, on each side of the hardware. It holds well (I was surprised, actually!).
The little hoop is now better than ever! I'm supremely happy with it.
So if you're stuck using a hoop that isn't quite up to par – maybe the wood is a bit rough, or the hardware isn't "sunk" into the wood on the inside of the ring – do yourself a favor! Pick up some twill tape at the sewing store (narrow for small hoops, a little wider for large ones), read up on how to bind an embroidery hoop, and go ahead and bind both rings. You'll be so glad you did!!