The other day, I reviewed the book Stitch Sampler, and today, I thought I'd give away a copy.
Read on to see the give-away rules!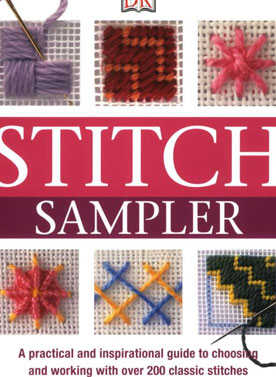 So, what am I giving away? A copy of the new edition of Stitch Sampler, which is slightly different from the copy I reviewed the other day, though the actual stitching content and instructions (and wonderful photo index) are all the same.
To enter the give-away, please do the following:
1. Leave a comment on this post – not via e-mail, not on other posts (it's just too much to keep track of!)
2. In your comment, answer the following question:
What's your favorite stitch dictionary and why? (If you don't have a stitch dictionary, that's ok. You can just tell us what stitch dictionary you'd like to own and why….)
3. Make sure you leave an identifiable name on your post.
4. To be eligible, comments must be submitted by this Sunday, October 10th, 5:00 am CST.
So, if you'd like to win yourself a free copy of Stitch Sampler to add to your needlework bookshelf, don't be shy! Leave a comment below! I'll announce the winner on Sunday!