Koala Conventions is a business in Australia devoted to putting together pretty spectacular needlework events. Twice a year in Australia, they host workshops that pull in some of the best tutors from Australia and around the world. The workshops cover a huge variety of techniques, and they look deliciously tempting and downright fun!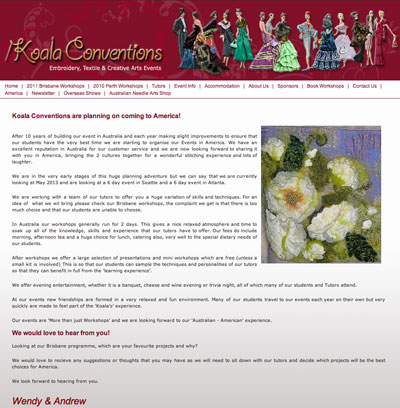 For those of us who live in the US, Koala Conventions has announced some pretty exciting news on their website! In 2013, they're planning on bringing Koala Conventions to America, with two gatherings, one on each coast!
(Update, 2016: This event never came to pass! Too much paperwork to get the whole event over to the US, I suppose!)
Now, to really appreciate what we're talking about here, you've just got to take a look at their workshop line-ups for their Brisbane, 2011 event. It's a huge array of teachers, workshops, talent… I can't begin to imagine the coordination and effort it will take to put together this type of event from some 10,000 miles away, but I'm awfully glad they're planning on doing it! They're currently asking for feedback, suggestions, and thoughts on the event, so do read their blurb on Koala Conventions coming to America and feel free to add some input on the subject.
And speaking of Koala Conventions, while you're at their website, click on their Australian Needle Arts Shop link. They have a shop! Definitely something to keep an eye on there as it develops further! There's heaps of excellent stuff in it already – especially kits and publications. Australia, after all, produces a plethora of excellent needlework-related-everything: from Country Bumpkin publications, to Gumnuts Yarns, to the kits and designs of the likes of Jane Nicholas and Alison Cole – I mean, really. What is it about Australia??!
Yep. Koala Conventions looks like good news all around! Check them out, keep an eye out for new developments, and if you're in America (or can be here in 2013), pencil them into your calendar for May!