Last week, I posted the first collection of Grace Christie's little designs for exploring hand embroidery stitches, and now, here's the second set. These little designs come from Samplers and Stitches by Grace Christie, a very nice embroidery book that's available online for free.
In the book, the various stitches that Mrs. Christie explores are shown in diagram form, partially worked on lots of different little motifs. To make the motifs workable for a sampler (or anything else you can think of to use them for!), I redrew them as vector images and, for ease of printing, have collected them into several PDF files.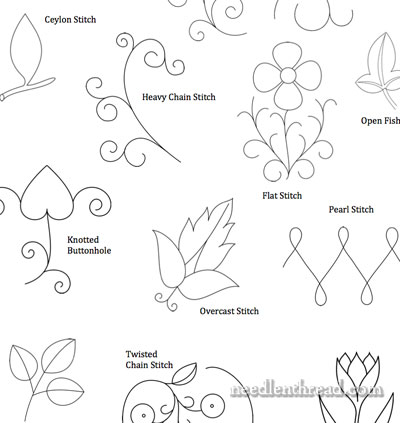 The designs are not limited to sampler work. They're also not limited to the stitches they were drawn for, though I did include the names of the stitches next to each little image, in case you want to look them up and give them a try. If Christie's explanation or diagram of working the stitch is not clear enough, some of the stitches can be found in the How To Videos here on Needle 'n Thread, others can be found in various online stitch dictionaries, or, if you have your own stitch dictionary for reference, you can look them up in there.
On this particular design sheet, there are three designs I really like: the one for flat stitch, the one for overcast stitch, and the one for reversed backstitch. All three designs could be used so many different ways. I doubt I'll end up using them for the stitches Christie suggested! For example, the overcast stitch design is calling out for some shading techniques, maybe in autumn colors. (Hmmm. Come to think of it, that might just be my subconscious yearning for fall to finally kick in here in Kansas….)
In any case, you're welcome to stitch the designs however you wish! I hope you find them handy for your needlework pursuits!
Here's the PDF:
Christie Designs for Stitch Exploration, II (PDF)
Enjoy!